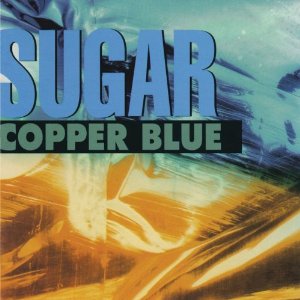 Sugar
Copper Blue/Beaster EP & File Under: Easy Listening Reissues
Merge
The past two years have been banner ones for Merge reissues. Indie icons Superchunk and Archers of Loaf have both had their back catalogues extricated from the label's vault, dusted off and polished, then augmented with demos, B-sides, and live recordings (not to mention extensive liner notes), and in some cases entirely re-envisioned (in the form of fresh cover art for the Archers' Vee Vee and White Trash Heroes).
As part of that tsunami of mid-'90s nostalgia, Sugar – a band that wasn't even signed to Merge during its brief lifetime – has received the same treatment. Copper Blue, which debuted in 1992 to rapturous critical acclaim, has reappeared bundled with 1993's Beaster EP and four bonus tracks (all of which were issued on the catch-all rarities compilation Besides in 1995) as well as an 18-track companion live album from a 1992 concert in Chicago. File Under: Easy Listening, originally released two years after Copper Blue, gains six bonus tracks (also compiled on Besides) and its own companion live album, a 1994 Minneapolis concert that previously saw the light of day as The Joke Is Always on Us, Sometimes with early pressings of Besides. The long and short of it is that these two reissues amalgamate every major Rykodisc release in Sugar's discography plus a concert – replete with a killer cover of Iggy Pop's "Dum Dum Boys" sung by bassist David Barbe – that up to now had only been making the rounds as a high-quality bootleg. Completists rejoice.
Said completists notwithstanding, lovingly curated reissues such as these are, broadly speaking, aimed at two types of listeners. The first would be the longtime follower of Bob Mould (his Modulate period being the understandable exception) who purchased this music when it first appeared and already owns the bulk of it in one format or another; the obvious carrot on this particular stick is the wealth of conveniently repackaged bonus material. The second type would be the younger, "retroactive" listener – in the same sense as, say, teenaged contemporaries of Sugar privately discovered Mould's earlier work with Hüsker Dü – who wants to own a pair of highly praised, influential albums with the dedicated contextualization and commentary offered by the expanded liner notes. Both of them will find plenty here to fit those bills.
But that's not where the strength of these reissues lies. That would be with the music itself, which has weathered the past twenty-ish years with few discernible wrinkles; and more importantly, the remastering that has made those earlier releases sound like back-alley knockoffs. Even the compressed 320kbps MP3 downloads I was given for review (Merge saves the full monty for select Pitchfork and Rolling Stone critics, apparently) have a more expansive sound than lossless rips of my personal copies of Copper Blue and FU:EL on CD. The stereo sound is fuller, more enveloping. And it isn't just drums and bass, the usual beneficiaries of remastering. Within the albums' expanded sonic universe, there's infinitely more nuance to pinpoint and explore.
Those general qualities translate to particular delights. The lead guitar on "Gift," FU:EL's opener, gains in searing intensity. The hard/soft contrast of Copper Blue's "A Good Idea" hits like a roundhouse rather than a jab, and the dark anger of "The Slim" is amplified. "Tilted," with its cumulative succession of rage and catharsis, sounds more furious than ever. Acoustic-heavy tracks like "If I Can't Change Your Mind" and "Believe What You're Saying" sound crisper and less wispy. Even a relative low point like "Granny Cool" grinds and shrieks its way toward something like pleasure, though its sneering put-downs about refusing to age gracefully might come back to bite Mould before long. The only potential caveat of this studio workover is that the vocals on certain Copper Blue tracks – the thundering "A Good Idea," the chorus of "Fortune Teller," and a much more thundering "The Act We Act" – sound as if they've been given a watery warble for reasons that aren't altogether clear.
Before these reissues appeared, there was already reason enough to revisit both Copper Blue and FU:EL from time to time. Not as fine albums with that deprecatory qualifier … for their time, but as fine albums in their own right that all but transcend the short but halcyon span of years out of which they arose. Thanks to the excellent digital remastering, the surfeit of supplemental material, and last but not least, attractive price (Merge is currently asking just under $30 for the entire five-CD combo), this is the next best thing to hearing Copper Blue and File Under: Easy Listening for the first time.
Bob Mould: http://bobmould.com
---