Marina and the Diamonds
with Icona Pop
Emo's West, Austin, TX • December 18, 2012
Carl F Gauze
It's been a while since I've attended a show where I'm taller than half the crowd. Sure, there were some long-suffering parental chaperones huddled in the back playing Words with Friends, but the main mass of this all-ages show was young teenagers and a few lost looking gay couples. Still, there's nothing wrong with bubble gum pop, and parking wasn't the horror show Yahoo lead me to believe; inside Emo's cavernous concrete dance floor they had a full bar, and since no one was legal, the wait for beer was short.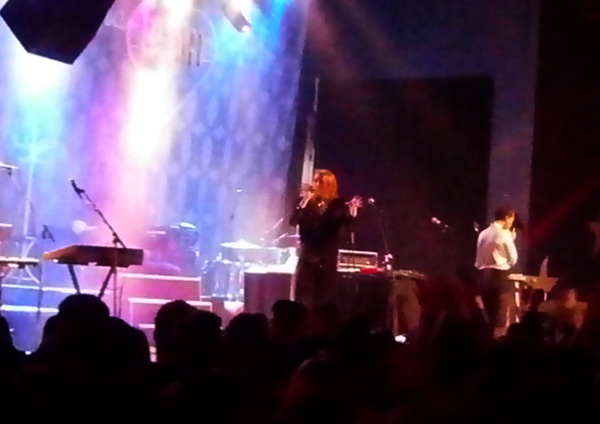 Opening act Icona Pop describes itself as "Swedish Electro-Pop" and the team of Aino Jawo and Caroline Hjelt seemed pretty handy with a drum machine. When they weren't bent over mysterious boxes and a mass of cables, they jumped up and down and got the crown in a mild rave-style arm-waving frenzy. The energy was positive, and these girls are NOT afraid to Auto-Tune. Too bad I couldn't pick out any lyrics; the sound in Emo's is muddy and none of my notes line up with identifiable cuts on their discography. Upside: infectious pop sensibility, decent mixing, and a great look. Downside: the set was exactly 30-minutes long, and I was up for a few more tracks before they struck and the roadies started winding cables. The girls promised to hang out at the merch table, but I never saw them there. I debated the $30 "I'm a '90s Bitch" white tee, but then thought better of it.
Grab a beer. Ditch the last one. Tourist note: Emo's rest room has the coolest posters ever.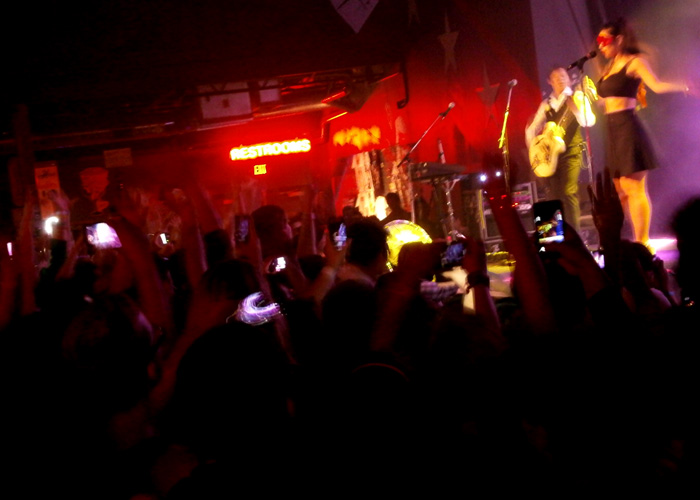 I'm new to Marina and the Diamonds; she's a Big Thing in the UK, with a stack of high-end nominations and awards from NME and MTV. I see her as Lady Gaga light; she's sexy and seductive, dresses in thrift shop chic without resorting to pointy bras or sirloin dresses, and she's master of the failed love affair song. Her four-piece back-up dresses in white shirts and black vests and recalls the sort of matching costumes bands wore in the '60s. The sound is pop flavored with dance, and while the drummer is hitting all sorts of notes, all I can hear is the kick bass.
This tour supports her recent Electra Heart album, and a giant neon logo hangs over the set blinking like a cheap motel sign on Route 98. I think all the album cuts are on stage tonight. I loved "Bubble Gum Bitch" with its bouncy yet snotty chorus, Marina could be the "Home Wrecker" with me any day, and "State of Dreaming" was, well, a dream. Marina pulls off a few quick costume changes. She opens in a black two-piece that looks vaguely like a cheerleader costume, and then she adds a white bridal veil, then there's a red seductress dress with a pink heart on the bodice, and finally a white sequined number. Along the way she brags about her $2 acquisitions. I'm a thrifty guy as well, and there's no need to spend big bucks to get an eccentric look.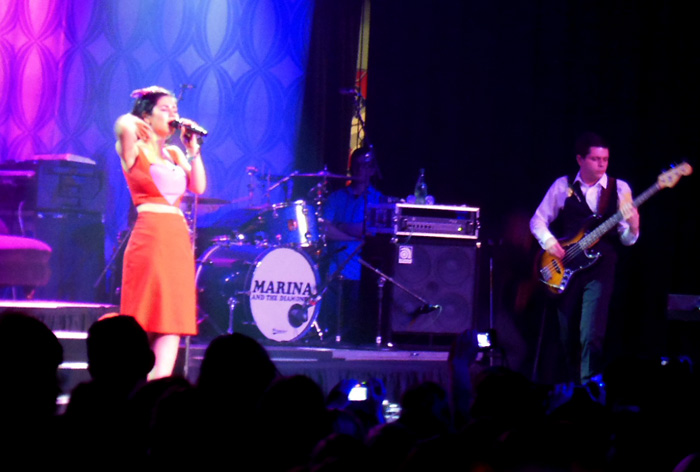 After an hour or so, the band slips off stage and then quickly returns for the encore, the energy notches up, she sings a song about the Rules of Love, and then, it's bedtime on this late-in-the-years school night. Out in the parking lot I catch the band running to the tour bus. The crowd makes a half-hearted attempt to get autographs, but no one presses it. The bus windows are blacked out, a single roadie sits guarding the band, and we all leave, happy and enthralled. There is still hope for pop music.
Emo's: http://emosaustin.com • Icona Pop: http://iconapop.com • Marina and the Diamonds: http://marinaandthediamonds.com ◼
---