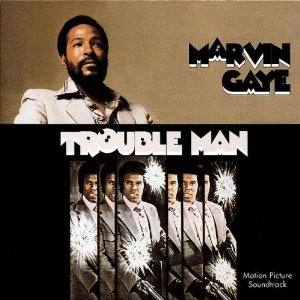 Marvin Gaye
Trouble Man
Hipp-O Select/Motown
1972's Trouble Man was a middling entry into the vibrant Blaxploitation genre, sort of a West Coast Shaft dealing with a private investigator/hitman/fixer caught between rival mob factions. While it didn't display the grittiness of The Mack or Superfly, or the anything-goes spirit of Black Belt Jones, it came through with a sense of cool and moodiness, a large part of which can be attributed to Marvin Gaye's groundbreaking soundtrack work. Released the same year as Curtis Mayfield's Superfly soundtrack and a year after Gaye's monumental What's Going On, Trouble Man showed Gaye stretching out and experimenting, including early forays into the synthesizer.
Rather than a collection of songs to be stuck in the movie, which would be James Brown's approach with next year's Black Caesar, Gaye created an actual soundtrack, most of which has never been available before this year's 40th anniversary CD reissue.
While many of the best Blaxploitation soundtracks had joyous, driving scores, Trouble Man has a strange melancholy feel, that of a hero resigned to the life he's chosen for himself, yet knowing there's got to be a better way of life out there. The first disc presents the original soundtrack, with the standout being the smooth "Trouble Man." Gaye's falsetto goes from silky to detached, giving the feel of a man who has seen too much. "Poor Abby Walsh" utilizes strings and piano midway through to convey a sense of menace, before Gaye comes in at the end with a sense of resignation and sadness. "The Break In" starts as a driving, pounding song, switching to a melancholy piano and horns. While most Blaxploitation soundtracks seem tailor-made for driving during the day, Trouble Man seems designed for late nights.
The second disc features the original score, and loses a bit of the melancholy feel of the original album. Perhaps the strangest track is the opener, "Trouble Man," which features Gaye speaking over his falsetto track, resulting in a strange, unsettling song. "Pool Hall" features joyous horns, recalling the best of mid and late '60s Motown. "Man Tied Up/Jmmy's West/Conversation with Cleo" goes from menace, to jaunty, life-affirming soul, to a sad piano and horn mood piece. "Car Ride/Looking For Pete" is spooky and percussion heavy. "Stick Up" is a slinky, flute-and-drum-driven piece. Without having seen the movie for a number of years, one can imagine lots of driving scenes and "looking for information/sneaking around" scenes being scored, even if the first disc is the one listeners will turn to when seeking a late-night mood enhancer.
Marvin Gaye: http://www.marvingayepage.net
---