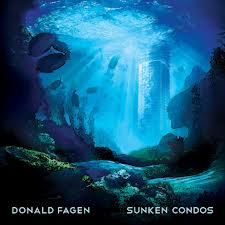 Donald Fagen
Sunken Condos
Reprise Records
My lord, this record is awful.
I mean, really bad. The emperor has no clothes bad. Fagen, one half of Steely Dan, continues his white boy generic funk slide to mediocrity. The last thing of quality he had his name on was Dan's Gaucho, and that was pretty much weak tea compared to Aja. You know, back in the '80s?
Sunken Condos substitutes multi-instrumentalist Michael Leonhart for Steely Dan's Walter Becker, but really the record is Fagen warbling atop a Band in a Box, the software program that legions of Mexican restaurant lounge singers employ when they can't afford a band. Every song exists in mid-tempo hell, devoid of any passion or improvisation, and Fagen's vocals, never his strong suit, sound more flaccid than normal. But then again, when you're tossing off such lyrical gems as "Some punk says: Pops you better/ Hold on to that slinky thing," Otis Redding couldn't make it sound tolerable. The best song on here, by far, is a version of Isaac Hayes' "Out of the Ghetto," and even that is only listenable because the song is so great, not because of anything some dilettante upper East Side used-to-be brings to it.
After I made myself listen to this all the way through the first time, my utter disgust and disappointment led me online to see if my ears were deceiving me. Apparently they were, because this POS is lauded as "one of his best" and "Fagen brings the funk…" Crap. Fagen apparently exists and survives on the wallets of corksniffers who don't mind paying hundreds of dollars to watch Steely Dan wheeze through the classics of their youth, back when all involved had hair. The same people who listen to this sort of antiseptic, emotionless drivel on state of the art sound systems, nattering about how much their power cables cost. Like it matters, if all you're using them for is to play utter phone-it-in crap like this.
Donald Fagen: http://donaldfagen.com
---