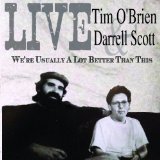 Tim O'Brien and Darrell Scott
We're Usually a Lot Better Than This
Full Light Records
One has roots in West Virginia, another in Kentucky, but these are not the Hatfields and McCoys. These are two of Americana's finest in a benefit performance at the Grey Eagle in Asheville, NC, pushing each other to an artistic burning point.
This sort of inspired pairing can sometimes result in a definitive version of any of the material that they cover. In this case, their scorching version of Townes Van Zandt's "White Freightliner Blues" fits that description. It goes without saying that they also do justice to their fine originals.
This was recorded in 2005 and 2006, some seven/ eight years after their initial collaboration, Real Time, which was also, for all purposes, a "live" album, though it was done in Darrell's living room. The New Year finds the duo once again at work on another "studio" album, although this too may be a home recording. I just hope that a subsequent tour will follow.
Darrel Scott: http://darrellscott.com • Tim O'Brien: http://timobrien.net
---