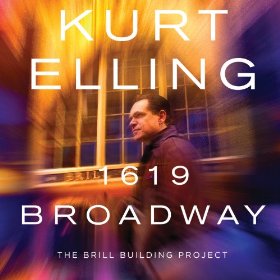 Kurt Elling
1619 Broadway: The Brill Building Project
Concord Records
There's nothing like a good cover band to while away an evening. You know all the songs, the band is always in tune, and singing along is perfectly acceptable. Now, when the cover band is as good as Kurt Elling, it's even better. Elling is a minor demigod of the jazz world, nearly every disc he's released was Grammy nominated, and he's taken that little gold Victrola home once. His latest project focuses on music associated with the Brill Building, and as you might have heard this was the heart of the American pop music scene for most of the 20th century – Leiber and Stoller and Bacharach and King all passed through the Art Deco doors.
Elling starts with "On Broadway." It's as close to a theme song as the Great White Way gets, and its cynical story of "I've never heard of you so you can't possibly be any good" works well with Elling's shimmering jazz voice. Sammy Cahn's "Come Fly Away" isn't as impressive; it's overwrought and the melody gets lost behind the syncopated drums and piano. Moving on to "I Only Have Eyes for You," we find the collection settling down. This song does much better under Elling's arrangements; it's moody and dreamy and has a touch of sadness, telegraphing that his eyes won't be looking at that girl anytime soon. "Shopping for Clothes" is an oddity, though the topic is what you'd expect from the title – a man wants to look sharp but lacks the cash and tries to negotiate hipness against a savvy salesman. It's like Clash of the Titans, brought to you wholesale. The Monkees' "Pleasant Valley Sunday" takes a beating; it's more Allan Sherman than it needs to be, and there's a lame comedy stream behind it. Paul Simon's "American Tune" recovers nicely, and is the pinnacle of this collection. It's a slow, moody song to start, and Elling rips even more passion out of it.
While there are a few rough spots here, they may be more about my expectations regarding classic compositions: Elling clearly is getting more than a few things correct, and I'll put this disc in my Permanent Collection.
Curt Elling: http://kurtelling.com • Concord Records: http://concordmusicgroup.com
---