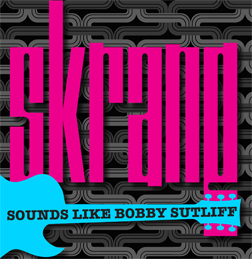 Various Artists
Skrang: Sounds Like Bobby Sutliff
Career Records
When power-pop master Bobby Sutliff was injured in a bad car wreck in June of 2012, his former partner in The Windbreakers, Tim Lee, wanted to help his old friend with his recovery. Skrang is the result, and with friends as talented as these, it's a fine tribute to a genius of jangle.
For those who aren't familiar with his work, both with The Windbreakers and solo, this collection will get you started tracking down the originals. Starting off with "Second Choice" by the legendary Velvet Crush with Matthew Sweet, the CD is 18 tracks of power-pop goodness. From Will Kimbrough to Peter Holsapple, Bill Lloyd and Don Dixon, the roster here reads like a 1980s power-pop Hall of Fame. Tim Lee weighs in with his new band Tim Lee 3, doing "I Thought You Knew" from the 1989 Windbreakers record At Home with Bobby & Tim, and Russ Tolman gives another take on "Devil & The Sea." Kirk Swan of Dumptruck stomps on your heart with "From a Distance," and Wilco's John Stirratt charms with "Girl From Washington" from the final Windbreakers album Electric Landlady from 1990.
Tim Lee should be commended for this loving gesture to his friend and bandmate Bobby Sutliff, and if Skrang whets someone's interest in his amazing brand of power-pop, then something good came out of that car wreck. Buy it!
Career Records: http://www.careerrecords.com
---