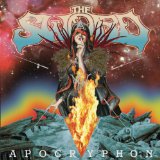 The Sword
Apocryphon
Razor & Tie Records
Somehow blending fantasy metal with the nostalgia of '70s stoner rock, The Sword have made surprisingly well-crafted hard rock that is a Dungeons & Dragons wet dream, yet is still accessible to the rest of the masses.
Their fifth album, Apocryphon, is chock full of head-banging riffs and killer guitar solos. Lead singer and main songwriter John D. Cronise sounds like an apocalyptic prophesying Ozzy Osbourne, singing lines like "Here at the end of all time/ Our slow demise becomes sublime" on "Dying Earth" and "Set aside your peaceful ways/ Prepare for war/… / We will use the flesh laid low/ The bodies fall" in "Hawks and Serpents."
While their previous album, Warp Riders, was a concept that launched their sound into space and away from the fantasy realms that they were slowly taking over, Apocryphon brings them back to Earth sounding like they never left. The Sword may cater to a niche audience, but they not only command it, they dare anyone else to step into their fantasy world and not be enraptured.
The Sword: http://swordofdoom.com
---