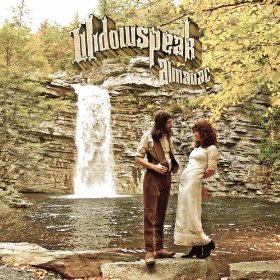 Widowspeak
Almanac
Captured Tracks
When Widowspeak appeared in 2011 with their self-titled debut, they were a Brooklyn trio with a sparing, shadowy Pacific Northwest sound that clung close to their basic instrumental makeup. For texture and emotional depth, they relied on Molly Hamilton's breathy vocals (Mazzy Star's Hope Sandoval is frequently invoked by way of comparison, and not without good reason, though Hamilton's enunciation is reminiscent of early Michael Stipe) and Robert Earl Thomas' lean, portentous, Spaghetti-Western-style guitar hooks.
Prior to the recording of Almanac, the band parted ways with drummer Michael Stasiak, reducing Widowspeak to the duo featured on the album's yellowed, throwback cover that might have graced any number of late Sixties/early Seventies folk-rock LPs. Paradoxically, however, the diminished lineup comes with an augmented sound. "Perennials" opens the disc with the staticky patter of rainfall – not an altogether new foray, as Widowspeak's "Gun Shy" intro'd with about fifteen seconds of birdsong – before drifting into a swaying wash of crescendoes and retreats. The twangy, exotic guitar (and later banjo) hook is what lures the ear, but it's the yaw and pitch of the bassline that urges it to linger. Several tracks later, in a percussion-less waltz time, "Thick as Thieves" conjures a ghostly musical mist of strings and keys around Hamilton. Part seductress, part accuser, she invites a mysterious ex to recall living on "borrowed time for the afternoon." Further on still, "Devil Knows" lays down a backdrop of guitar fuzz and flange for its rich stereophonic fireworks, then stops abruptly to chug and grind for each chorus while Hamilton hazily sings of being high, low, and in the throes.
Like "Perennials," "Thick as Thieves," or "Locusts" and its sinister drone, "Devil Knows" is a far more sonically intricate track than, say, the much more straightforward rock of "The Dark Age" or the by turns wistful and distraught "Ballad of the Golden Hour," both of which are outstanding, and neither of which would have been entirely out of place on the debut. But the real matter is whether or not this sonic intricacy serves some higher purpose; and when listening to a track like "Minnewaska," it's hard not to think that its medley of ambient nature sounds (this time it's crickets), vocal overdubs, harmonium, and zither are there to lend a false sense of heft to a limp campfire ballad, the most poignant lyric of which runs, "If we are afraid/ It's okay to be afraid." That concern could just as easily apply to "Spirit Is Willing," a four-minute song that doesn't have much beyond its acid-trip unpredictability, or the plodding closer "Storm King," which half-heartedly tries to replicate the sullen dreaminess of the previous album's "Ghost Boy" and ultimately concludes with – yes, you guessed it – more ambient nature sounds. Much has been made of the band's decision to record in a century-old barn in upstate New York and the thematic album title, but again, that would seem to prioritize ambition over execution.
Almanac wouldn't be the first concept album to be constructed around a rather questionable concept, but it does suggest that Widowspeak, despite so many excellent tracks on this full-length and the one that preceded it, either sequenced Almanac by stowing the iffy material toward the rear, or the band was attempting to run on four legs after walking with six.
Widowspeak: http://widowspeak.bandcamp.com
---