Muse
with Dead Sara
Amway Arena, Orlando, FL • February 25, 2013
Jen Cray
There's a silly little scene in the middle of the first Twilight movie where the vampires are playing baseball, in the woods, during a thunderstorm. It would be a cheesy, throwaway scene were it not accompanied by Muse's "Supermassive Black Hole."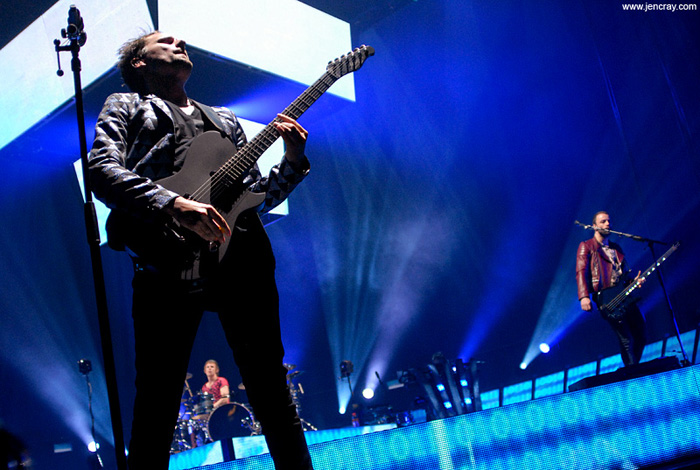 The song's got a sexy guitar riff, falsetto vocals, and a white hot rhythm so memorable that it stays with me long after the movie ends. It's so good, in fact, that not even the fact that it's in a Twilight movie detracts from its sheer awesome-ness.
When they're not soundtracking teen paranormal romances (a Muse song appears in three of the five films), they're filling up arenas with a sound much bigger than the sum of their parts. Three guys from England make a mega-sound that rivals their electricity-draining light show for brilliance.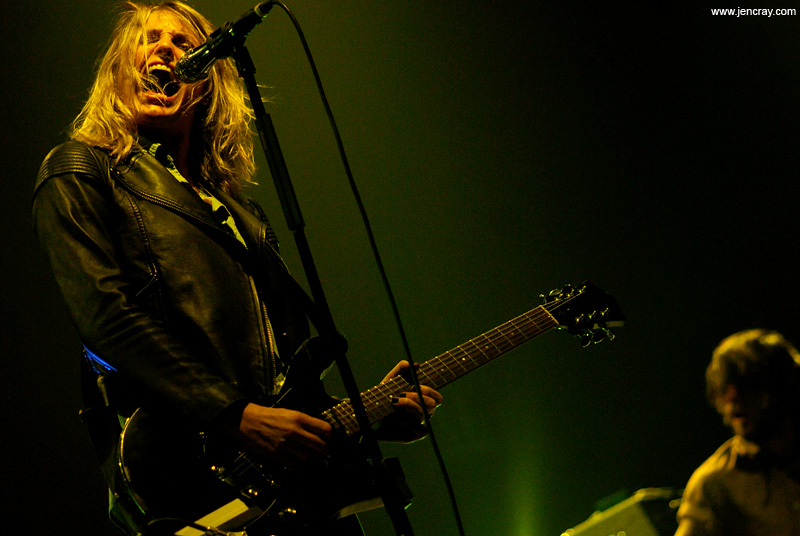 Sometimes the biggest boom comes not from the final firework, but from the one that catches you off guard. For those who weren't already poised with their eyes on the stage in anticipation, the firecracker that jolted the early birds away from the beer stands and bathrooms goes by the name of Dead Sara.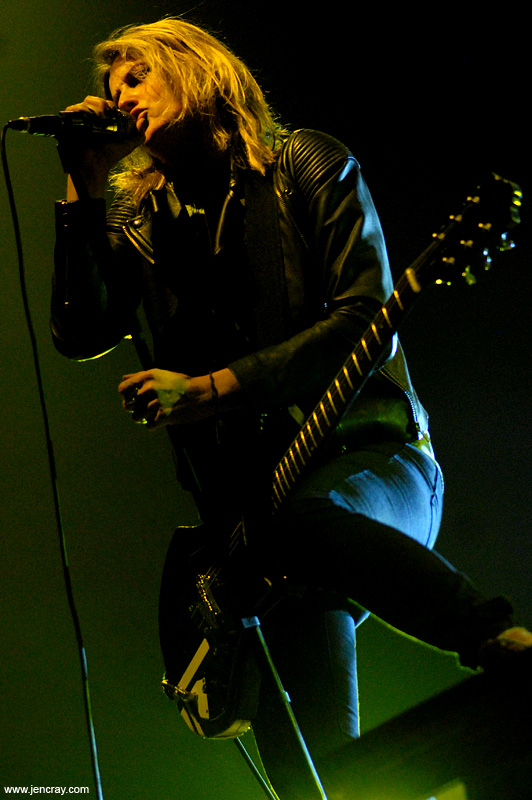 Led by the effortlessly sexy Emily Armstrong – a woman who can belt out a heart wrenching ballad like Janis Joplin and growl and scream like Kurt Cobain without cracking or losing pitch – Dead Sara are the best '90s band to come out of the 21st century. Their set is met with cheers, tears, and chants by fans who already discovered them this past summer on the Warped Tour, or opening up tours for The Offspring or The Used.
Their too short time on the big Amway Arena stage was split between the softer melodies that showcased Armstrong's bleeding heart vocals ("Sorry For It All," "Dear Love"), and the raging numbers that find the band (Siouxsie Medley on guitar, Sean Friday on drums, and Chris Null on bass) owning the room in a way few opening bands can ever hope to achieve. It's the latter, explosive rock songs like "Lemon Scent," "Test on My Patience," and show closing "Weatherman" that set my heart to racing and I would have happily watched another hour, or two, or ten, of this band – and of the magnetic Armstrong. If you see the Muse tour, and you arrive late, you WILL be wondering what the hell everyone is talking about.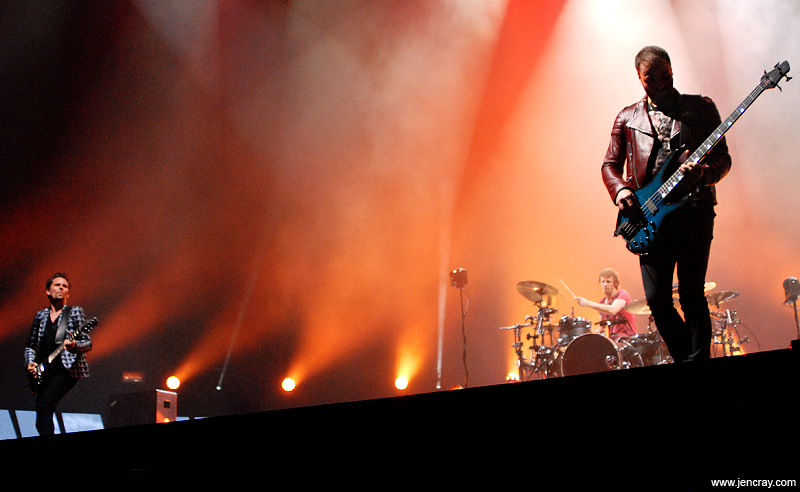 …Still, I wasn't exactly heading for the door when the headliners threw their ear-shattering beauty our way. Even though some of their newer material, off of the electronic Broadway-esque (and downright dance-y, at times) The 2nd Law, doesn't stimulate the senses quite as much as the post-grunge prog-rock they're known for, the men of Muse still know how to turn the dial up on live performance.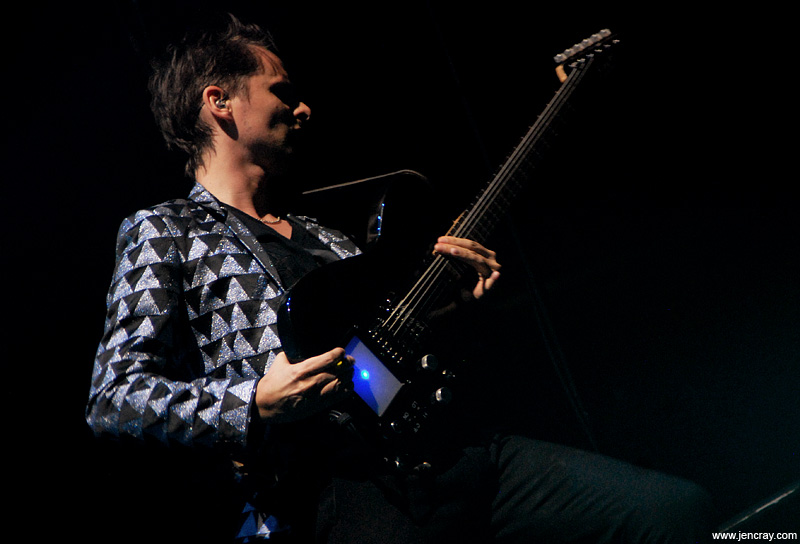 Spaceship-like stage decor, video screens, smoke machines, and lasers, that frontman Matt Bellamy can hold in the palm of his hand and refract out into the audience, color the spectacle that would otherwise be a rock concert. Whether wielding a prism of light or falling to his knees to crotch shot the fans, Bellamy has blossomed into a charismatic showman who works the crowd as effectively as he works his guitar. Even his guitar is entertaining! His signature MB-1, which features a sustainer circuit and a X/Y midi controller pad that not only can be rubbed to produce digital audio effects, but which changes colors as well, reveals itself early on during an appropriately mind crushing "Supermassive Black Hole."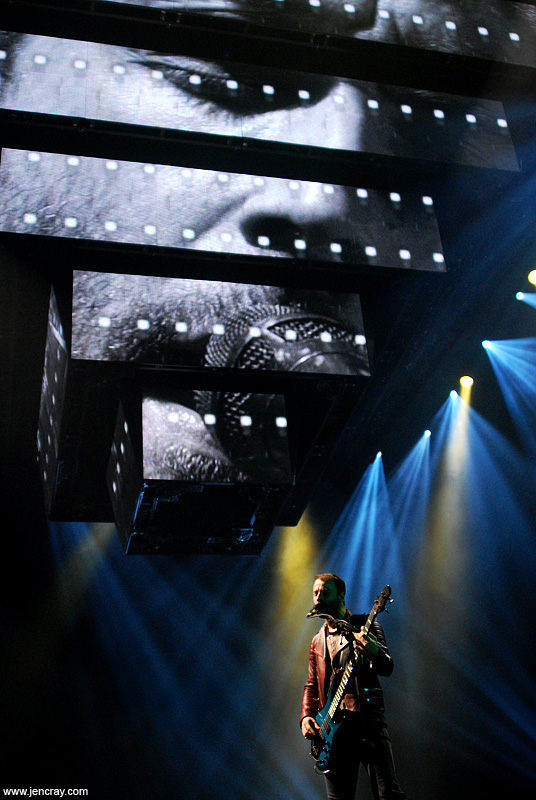 The piano balladry that shows off Muse's Queen influence, like "United States of Eurasia," sent many fans ducking out for a beer – which is a shame, because those folks missed an epic climax that found Bellamy stomping and jumping atop the piano keys. The subtlety of the slower songs ("Explorers," "Madness"), as beautiful as they were, got eclipsed by the more epic explosions of "Time is Running Out" and "Stockholm Syndrome," and especially by the surprise instrumental dubstep "The 2nd Law Unsustainable," whose light show may have caused a seizure or two.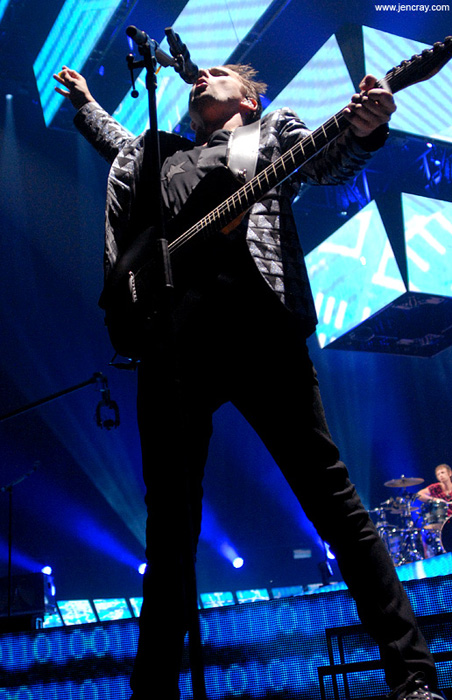 A dark room full of lit cell phones greeted the band for a two song encore of an old hit "Starlight" and the piano-driven 2012 Olympics them song "Survival." Few bands can reach into such an epic stratosphere as Muse without crossing into the realm of ridiculous, but these guys manage it well. They fall in line with the likes of Queen, Radiohead, and U2 as bands willing to go over the top, at all costs.
Galleries of live shots from this show: Muse and Dead Sara.
Muse: http://muse.mu • Dead Sara: http://deadsara.com ◼
---