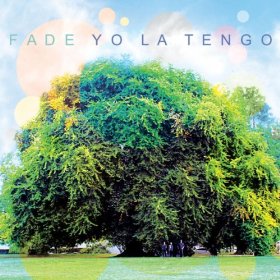 Yo La Tengo
Fade
Matador

The opener on Fade is deceptive. "Ohm" might lead you to believe that the majority of the nine tracks that follow will be of the buoyant toe-tapping, head-bobbing variety found on I Am Not Afraid of You and I Will Beat Your Ass (2006). Yet "Ohm" is actually one of only two anomalies here; Yo La Tengo's thirteenth studio album is the trio's most subdued since Summer Sun (2003).
When burrowing into the lyrics, however, it becomes clear that "Ohm" is the prelude to a collapse that runs through Fade as a motif. "Sometimes the bad guys come out on top/ Sometimes the good guys lose," sings Ira Kaplan. The start of the next verse lends the album its evocative name: "Sometimes the bad days maintain their grip/ Sometimes the good days fade." And things don't improve from there. The narrator knows his lover is "slipping, slipping away," and though the song's title suggests that he is trying to be at peace with an unjust universe, he finds himself "resisting the flow." This futile romance continues with "Is That Enough," on which the lyrical sentiments more closely parallel the mood of the music. Backed on the chorus by a string quartet, Kaplan puts the rhetorical question of the song's title to himself: Did the "[t]hings we did unthinking/ the joke we left unsaid" make his feelings clear? He takes the liberty of answering: "It's not enough. No."
To point out that Kaplan has never been a vocal powerhouse is a bit like saying that Derek Jeter has never been a good hockey player. But Kaplan's singing on even as gentle a tune as "Is That Enough" elicits a certain ambivalence. On the one hand, his trademark delivery conveys a deflated melancholy that suits the song's sense of despondency and introspection. On the other, there's a lack of conviction that puts the singer and his material at one remove from each another. Gone is the confessional quality; the failing relationship is exposed as a narrative device. This rift isn't jarring enough to ruin the song's tender beauty, but it does exist to some degree, and it prevents an otherwise strong track from fully enveloping the listener in its emotional universe. That rift heals once we arrive at "Well You Better," a feistier number with crisp drumming, bubbly keys, and staccato jive guitar. Kaplan implores his lover to "make up your mind before it's too late" – and here he actually sounds like he means it. Nor is a lack of conviction an issue on "Stupid Things." When Kaplan sings here, "I always know that when we wake up/ You're mine," it's downright heartbreaking, in part because it sounds more like a plea than a declaration.
Georgia Hubley's hushed, throaty vocals lead on three tracks: "Paddle Forward," which brings Yo La Tengo's familiar noise pop to an album that is largely devoid of it; the crepuscular ballad "Cornelia and Jane," on which the poignancy of the questions "How can we hold on to you?" and "How will we hold back your tears?" are accentuated by a bittersweet interplay of horns; and the six-minute closer "Before We Run," on which she briefly duets with Kaplan. The strings and brass (re)appear together on the latter (fittingly, the album gradually fades out from the nine-person chamber orchestra to ever more distant percussion); the strings attack in sharp, optimistic bursts, and the brass offers a slowly undulating lullaby.
Whether or not the switch from longtime producer Roger Moutenot to John McEntire (Tortoise, The Sea and Cake) directly resulted in one of Yo La Tengo's most cohesive and most bewitching albums to date is anyone's guess. Maybe McEntire brought fresh ideas. Maybe Fade was simply the album the band was ready to make. But speculating about the whys and wherefores isn't nearly as satisfying as settling in for the faint gallop of percussion at the start of "Ohm" and letting Fade take you straight through to the final strains of tom and snare on "Before We Run."
Yo La Tengo: http://www.yolatengo.com
---