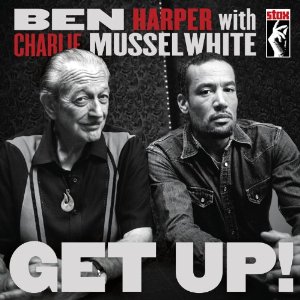 Ben Harper with Charlie Musselwhite
Get Up!
Stax Records
Ben Harper met legendary bluesman Charlie Musselwhite when they collaborated on "Burning Hell" on the John Lee Hooker album The Best of Friends in 1998, and they swore to work together again. Well, it's taken over ten years, but Get Up! is definitely worth the wait. The mixture of Harper's songwriting, slide guitar, and gruff vocals mesh perfectly with the lonesome harmonica of Musselwhite and sounds as if the two have been playing together for years.
The record spans the acoustic blues of "Don't Look Twice" to the rousing, gospel-driven "We Can't End This Way" or the Zeppelin-equse "I Don't Believe A Word You Say," and on each cut the driving harmonica answers the gritty blues of Harper. Backed up by Harper's band (Jason Mozersky on guitar, Jesse Ingalls on bass, and Jordan Richardson on drums), this is a wonderful mixture of Ben Harper's eclectic and passionate writing with the low-down Chicago blues of Musselwhite. In fact, the only knock on the album is that Charlie Musselwhite doesn't sing or write any songs, but anytime you get to hear his take on the "Mississippi Saxophone," it's a treat, so we won't complain too much. The heartfelt "You Found Another Lover (I Lost Another Friend)" is a slow, acoustic blues tune that give Harper's vocals a workout, and "She Got Kick" sounds like a Stax throwback, all uptempo and sassy.
It might have taken a bit for Ben Harper and Charlie Musselwhite to get back to the studio, but Get Up! is proof that good things come to those who wait. Let's hope the sequel comes a bit quicker!
Ben Harper: http://benharper.com
---