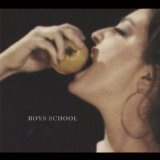 Boys School
Boys School
Nectic Collective
They call themselves "Future Shock Rock N' Roll," and to me that says silver space suits and weird theremin lines backed with vocals populated by girls who escaped from bad dates with Captain Kirk. But what I hear is a power pop band that would have been right at home in Valley Girl.
Boys School recalls the L.A. late punk and early new wave scene, there's minimal synth and shredding guitars and vocalist Brett Farkas sounds like either Mojo Nixon or Peter Case depending on how fast he sings. "Medicated" falls in the Mojo category; it's got a rockabilly back beat and classic bridge and chorus structure. But when we slip from that cut to "Talking to Myself," we are back in the Whisky A-Go-Go with safety pins through our ears and thrift shop leather jackets with magic marker copies of our favorite bands' logos. The harmonies continue with "So Cool" and "There it Goes," and these are the idiot simple pop songs and melodies that get stuck in your brain for a lifetime. Occasionally we stumble across a slow cut like "I'm With You" or "Saturdays," these are nice but not what makes the record and this band a compelling new voice on the scene. All good L.A. punk bands started their careers with a cover; Boys School picks out a decent version of ABBA's "SOS." The irony? We all regarded ABBA as disco, and punk was the protest against disco, but now things have mellowed.
Today it sounds pretty good, and as to the irony? We all need some irony in our daily music diet. Boys School: Highly recommended for the inveterate lover of old school punk.
Boys School: http://boysschoolrules.com &bullet Nectic Collective: http://nectic.com
---