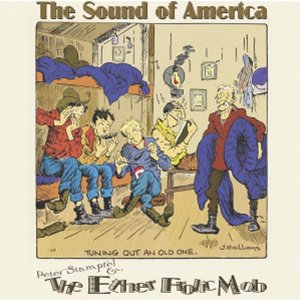 Peter Stampfel & The Ether Frolic Mob
The Sound of America
Red Newt Records
Peter Stampfel has been bringing America's lost avenues of music to light for over 50 years. He was a co-founder of The Holy Modal Rounders with Steven Weber (who featured playwright and actor Sam Shepard as a drummer for a time), who took jug band music, rock and roll, and old-time country and made both a riotous noise and performance art, all at once. Since then he's played with The Fugs, The Duo-Tels with guitarist Gary Lucas, The Bottle Caps, and Jeffrey Lewis, among others.
His newest group, the Ether Frolic Mob, continues his love of the common song and his devil may care attitude toward performing. An "ether frolic" was used to describe a bunch of folks getting together and whooping it up on ether, a sort of "Acid Test" pre-hippy. If the music on The Sound of America is any indication as to the spirit of the thing, then ether ain't just for root canals anymore. From the "Drunken Banjo Waltz" (which sounds exactly as you'd expect), to a rambunctious "Shake It Break It," and the winsome "Gonna Make Me," Stampfel has again collected music from 100 years of songwriting and made it his own. His vocal style is, well, unique, as is his banjo and fiddle styling, but when the music is this much fun, who cares?
And that's the bottom line, I think. Looking back over Stampfel's vast output, this record sounds like a companion to the first Holy Modal Rounders record from 1964, or the legendary Have Moicy! from 1976 – just too much fun. From his lyrical additions to "Deep In The Heart of Texas" (Where men in braids/Can still get laid/Deep in heart of Texas), to the over-the-top version of Gloria Gaynor's "I Will Survive," Peter Stampfel has made a life's work of rescuing lost songs and artists and presenting them with élan, spirit, and underneath it all, fun. Peter Stampfel is an American treasure. Give the Ether Frolic a spin. Even without the gas… it's a gas!
Frederick Productions: http://frederickproductions.com
---