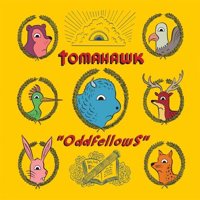 Tomahawk
Oddfellows
Ipecac
Tomahawk is a "supergroup" composed of Duane Denison (The Jesus Lizard, Hank III), Mike Patton (Faith No More, Mr. Bungle, Fantômas , Mondo Cane, Peeping Tom, et. al) , John Stanier (Helmet, Battles), and Trevor Dunn (Mr. Bungle, MadLove, Fantômas). "Supergroup" is one of the great oxymorons in the lexicon of music. Quick, name the supergroup: Led Zeppelin or The Firm. The answer, of course, is The Firm. In the history of rock supergroups, there are ten bands like The Firm or Bad English for every Cream or Traveling Wilburys. Not great odds. What often looks great on paper fails to produce great music. This, along with colossal egos no doubt, could be one reason most supergroups tend to be short-lived ventures.
So in many ways, just releasing their fourth album, Oddfellows, sets Tomahawk apart from many supergroups. Oddfellows proves to be a continuation of the sound (which I refuse to label with a few stock adjectives) established on the band's first two releases: Tomahawk and Mit Gas. Tomahawk took a bit of a detour on its third album, Anonymous, by basing the tracks on traditional Native American songs, so the obligatory "return to form" label will undoubtedly be placed on Oddfellows.
At 13 songs clocking in at just less than 41 minutes, Oddfellows plays with a stark economy some new Tomahawk listeners may find jarring. For example, the band often will not repeat a chorus the number of times normally required of the 3:30 minute pop song format. Overall, the band seems to be taking an "all killer, no filler," less-is-more approach with the brevity of the songs and the live feel of the recording. If there is one complaint about Oddfellows, it would be in the production. Even on CD, the album feels a bit compressed and trebly; this serves to blunt some of the sonic power of the great collective and individual performances, most notably those of drummer Stanier and bassist Dunn.
Mild production concerns aside, Oddfellows plays as another strong album from a supergroup of alternative professionals (how is that for an oxymoron?). There is an obvious chemistry among the four members, almost enough to stop people from mentioning their past bands when talking about this one. So here's to album four and a hope for a fifth from this supergroup of odd fellows.
Ipecac Recordings: http://ipecac.com
---