Alkaline Trio
with Bayside, Off With Their Heads
House of Blues, Orlando, FL • May 10, 2013
Jen Cray
I was getting a tattoo the first time I ever heard Alkaline Trio. As the sharp vibrations of the needle numbed my forearm, I got lost inside of the delicious sounds of a band who sang of the sexy virtues of a lover's clavicle. Any band that could turn a collar bone into an object of desire, and make the lyrics catch in my brain upon the first listen, was a band worth listening to, I decided then and there.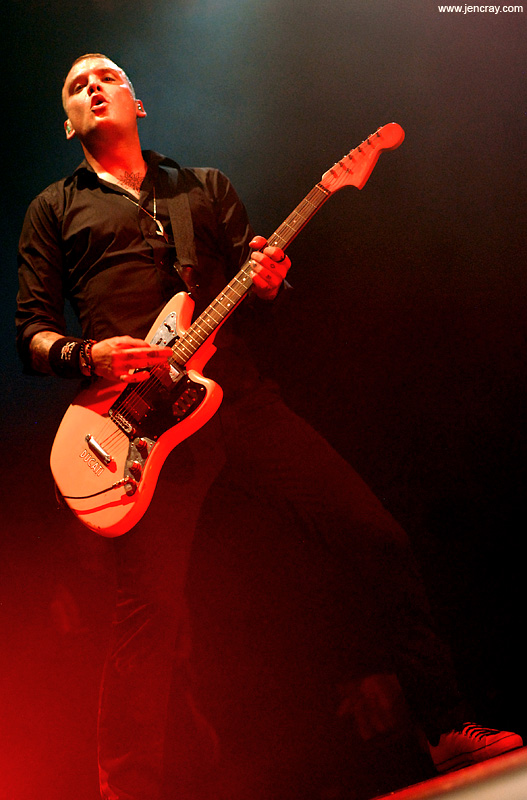 Since that time, the Trio has released a couple of great albums, a pair of mediocre ones, and, most recently, one that houses the catchiest tune they've written in years ("She Lied to the FBI" off of My Shame Is True). It's for this record that they're currently touring, and it's that song that kicks off their Orlando set, after a couple of warm-up bands give the bars time to get everyone good and drunk, that is.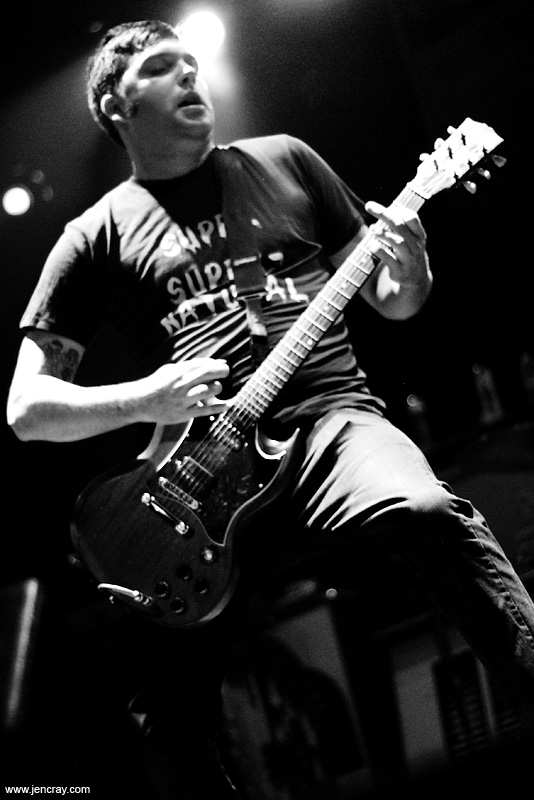 Gruff yet melodic songs about suicide, angst, and anxiety – that's what Off With Their Heads deliver and when those songs are backed by snappy power chords, the crowd swallows the bitterness like it was candy. "Self-Checkout," "Fuck This, I'm Out," "Trying to Breathe" – these older songs (ya know, like from 2007-2008) are the sweat-inducers, whereas "Don't Make Me Go" a, dare I call it, ballad causes attentions to wander. The fact that the band is trying new things is admirable, but a pensive moment in the midst of a tornado of aggression instead sticks out like a cowboy at a punk show.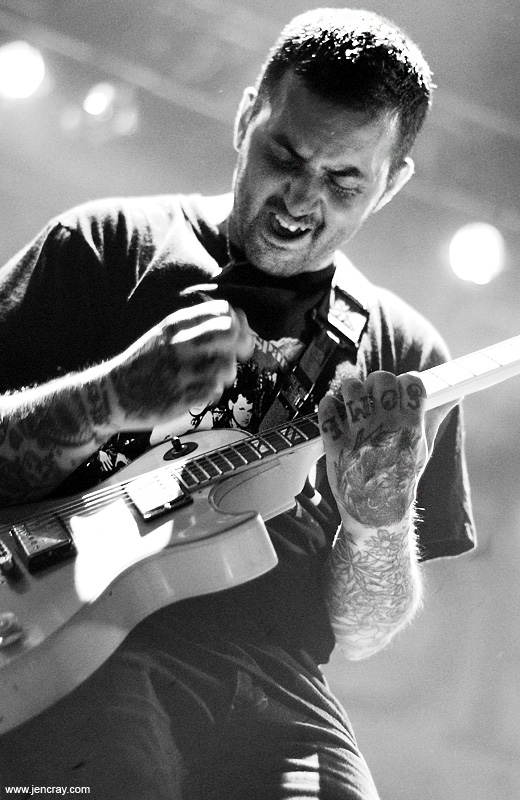 Bayside, an emo band that first crept onto the scene over 10 years ago and then all but disappeared, owned the audience from the moment they stepped out. Is Emo still around?! you may be asking yourself. Apparently, yes, and Bayside is still a fan favorite, at least among Alkaline Trio's teenage fans. As front man Anthony Raneri leads the NY group though a pop punk set that's a little too nasal to be anything but annoying to my ears, Orlando shouts back the words to "Already Gone," "Duality," and closer, "Sick Sick Sick." No doubt these same fans will be in attendance for the Fall Out Boy show in a few weeks – Bayside is cut from the same nonthreatening, clean-cut cloth.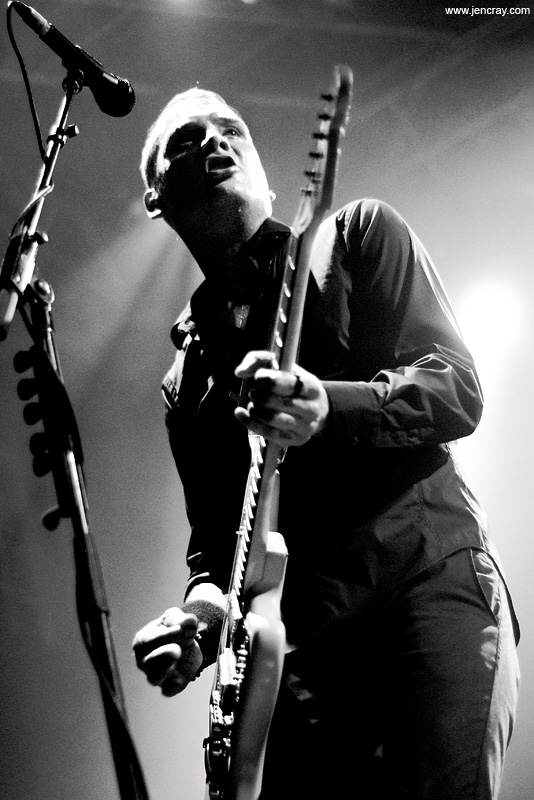 Sufficiently warmed up, the light falls on Alkaline Trio's eponymous heart and skull logo as the opening chords of "She Lied to the FBI" prove that there is no end to the appeal of a finely written pop punk song. Smiling inside of the red lights they prefer to hide themselves in, Matt Skiba, Dan Andriano and Derek Grant have always been a play it straight kind of live band. No frills, no excess, no gimmicks, just song after singable song.
The set is heavy with oldies, the standbys that promise huge crowd reaction, and deliver beautifully. Early years songs "Hell Yes," "Clavicle," "San Francisco" were all served up within the first 30 minutes of the night, and the long-time fans nearly burst some neck veins straining to out-sing the fans next to them. Even the brand new offerings, "I Wanna Be a Warhol" and "The Torture Doctor" received their due. How this band, which has been writing darkly fun ditties since 1996, still manages to make such consistently fun albums is a mystery, but they manage to make it look effortless.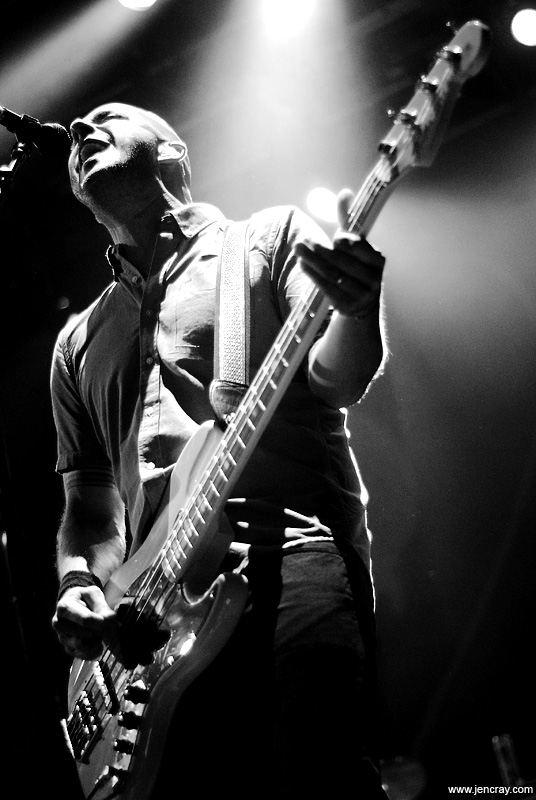 The night wraps up with an encore of "Cringe" and "Radio," a soft but potent ballad that could teach a band like Bayside a thing or two about how to write an emotionally driven pop song without sounding contrived. Two thousand pumping fists form a curtain that blurs a clear view of the sweaty band onstage, and the corresponding voices dominate the air, virtually downing out Skiba's howls.
Galleries of live shots from this show: Alkaline Trio, Bayside, and Off With Their Heads.
Alkaline Trio: http://alkalinetrio.com ◼
---