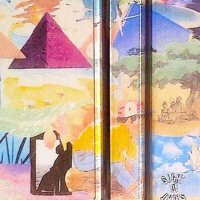 S.O.S.
Astral Planes Drifter
Rainbow Pyramid
When you ask Jacksonville musicians of a certain stripe whom they want to namecheck, shout out, what have you, the name S.O.S. is bandied about more than most. On the flipside, when you ask about unpredictable performances, onstage confrontations, fractured collaborations, and general chaos, the name S.O.S. also comes up more often than it should. But y'know what? That's fine too. If you want to sit with your nachos and be lulled to sleep, you can check out a bunch of losers singing paeans to Salt Life at the Beach anytime. It's about damn time someone spilled some (virtual) ink on this great lost piece of Jacksonville psych-noise.
I'm taking awhile to get around to discussing the music on Astral Plains Drifter because it is absolutely impossible to describe the music on Astral Plains Drifter. It is an intensely personal, yet entirely egoless journey through one man's psychogeography (hell, maybe even the collective unconscious). The pieces here are intricately structured individually, yet flow into a seamless, unbroken whole, taking in elements of noise, psychedelia, bossa nova, and sci-fi soundtracks, with field recordings and samples from various television shows and movies (usually space-related) woven in – the only solid markers of intent. The material was painstakingly constructed using a four-track, and in an age of Ableton, it makes the listening experiences downright impressive. By the time a sitar surfaces (played by S.O.S. himself, I should think, being that it's his current musical obsession), you'll start swaying along to his deeply strange and elating rhythms. Or just stare at the cover collage, also by the artist.
Rainbow Pyramid: http://rainbowcult.com
---