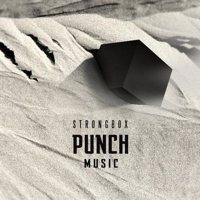 StrongBox
Various Artists
Punch Music
There's precious little information on this collection of a-dozen-plus remixes, although you can dig around on Google and find it for sale or download in all the usual places. The sound is beat-heavy dance music, the dark, late-night kind of techno devoid of the thrilling lyrical excesses that lead down the happy hardcore road. The artists here are guys like Miki Litvak and Muzarco and Nir Shoshani, and no, I have no idea who they might be. However the sound is surprisingly consistent across the collection, with a layer cake of effects piled on the drum machine and just enough sheet metal clanging to keep the sound factory-oriented.
Highlights include "Umlauts" from Muzarco & Miki Litvak, its building beat spiced with sampled surface noise from an old vinyl LP and some dark, low-frequency feedback loops. Yariv Bernstein teams with Dan Drastic (best DJ name I've heard in weeks) for "Tandem" This flock of beats has a little set of arpeggios hiding behind the bass line that scurries away when what might be a digital trombone sneaks in. Hypnotic "Pollinator" by Miki Litvak & Gary Beck opens with a Pet Shop Boys-influenced line, but this track soon enters a darker industrial place, with a paint can lid spinning on a concrete floor – digitally, of course.
There's more dark house goodness here, and this set of mixers feels like they all live in a big loft somewhere with die-hard vegan sensibilities and a taste for X.
---