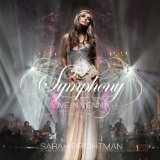 Sarah Brightman
Dream Chaser
Alternative Distribution Alliance
With her delicate soprano voice, flowing hair, and classic good looks, Sara Brightman is the modern version of Stevie Nicks. The music here is slow and dreamy, heavy on the strings, and infused with lyrics that sound like hormonally induced teenage poetry. Her latest release opens with glacial chords and distant howling winds as your guardian angel explains her job and how much she loves you. It's a beautiful track, building to soaring crescendos and letting you know: this is important music.
Perhaps it is. The vocal and orchestral fireworks here could be trite, but they never feel that way. Brightman's voice always feels in complete control, and all that horsepower behind the baton has its eye straight on her. "One Day Like This" should be somewhere in a Sondheim musical; it seems bigger than anything her ex-hubby (Andrew Lloyd Webber) would write. "Glosoli" continues on, leading into the symphonic "Lento E Largo" from Symphony for Sorrowful Songs. I think it's in Italian, but the words are lost behind the chords. I can't quite make them out. Are they sorrowful? Well, only in an operatic sense. I felt more relaxed by the track than depressed. As we near the end, we float down from the rafters with "Song of India." The arrangement recalls the lush black and white film romances of the last century, and then we close with Paul McCartney's "Venus and Mars."
Cathedrals and sports arenas seem natural homes for Brightman's voice, but you'll get the full sonic effect from a decent CD player. As the record fades with "Closer," I remain impressed: Brightman knows how to build emotionally enrapturing sound, and few are her equals in today's market.
Sarah Brightman: http://sarahbrightman.com
---