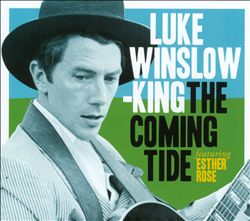 Luke Winslow-King
The Coming Tide
Bloodshot
Luke Winslow-King might give the appearance of a young pup (he was born in 1983), but put a National guitar in his hands and he becomes an old soul. After moving to New Orleans in 2001, King began performing on the city's heralded Frenchman Street, letting the sounds of America's musical melting pot soak into his music like the chicory in a cup of Cafe Du Monde coffee.
The Coming Tide is a confident romp through old-time jazz, blues, and pop. King, alongside vocalist and washboard player Esther Rose, sounds completely at home on standards such as "Keep Your Lamp Trimmed and Burning" or on his own material, such as the ominous title cut or "Moving On." He sounds a bit like Ry Cooder, particularly in the guitar work. King's strong, melodic resonator stylings carry songs such as the droll "Ella Speed" or his cover of "I've Got My Mind Set On You," which sounds more like a warning than the happy rendition we are accustomed to via George Harrison's take.
Luke Winslow-King is one of those rare performers that is unabashedly "old school," with no reluctance in embracing the sounds of the past. The Coming Tide is a remarkable record, a melding of some of our greatest musical strains – jazz, blues, country and pop – on its 11 cuts. Luke Winslow-King's command of his art is smoothly confident and exciting and bodes well for the youngster. He's scary good.
Luke Winslow-King: http://lukewinslowking.net
---