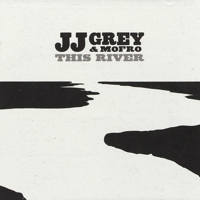 JJ Grey & Mofro
This River
Alligator
Lucky for us, JJ Grey & Mofro can't decide on what sort of band they are. The band's eighth release, This River, starts off with country sass on "Your Lady, She's Shady," a bit of bayou rap that sets the album on its groove. Following it up is "Somebody Else," a horn-infused rocker that brings to mind those great Memphis soul bands. "Florabama" and "99 Shades of Crazy" will delight the band's more jam-centric followers, and through it all the band never strays too far from the funk that has become their hallmark since their debut, Blackwater, in 2001.
JJ Grey & Mofro are big on the festival circuit, and a few spins of This River illustrates why. The band's easy-going style is funky in the way old Little Feat and The Meters are – all the energies of the the seven-member group are focused on setting the groove. This is beer drinking, dancing in the hot sun of summer music. They might slow down a bit on "Write a Letter" or "Tame a Wild One," but in the end, there's something about their Florida funkiness that shines in every song.
Sometimes you just wanna boogie, and there ain't nothing wrong with that, as JJ Grey & Mofro testify on This River.
JJ Grey & Mofro: http://jjgrey.com
---