The Flatlanders
SOL, Santa Fe New Mexico • June 19, 2013
James Mann
The Flatlanders – Joe Ely, Jimmie Dale Gilmore and Butch Hancock – have existed on another plane since their formation in the early '70s, when the trio shared a house in Lubbock, Texas. Long nights spent writing and playing songs together in their sparse West Texas hometown gave them a preternatural symbiosis of talents that has endured to this day, together or apart. It's taken them from dive bars in Austin to Carnegie Hall, and every show seems to exist in their transcendental living room. Ely is the storyteller, Gilmore the Zen seeker, and Hancock the cerebral folkie, and together they perform each other's songs, finish each other's sentences, and create something intangible and unique each time they perform together.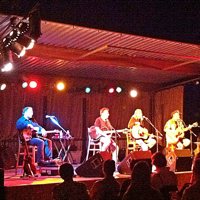 Opening with "Going Down The Road Feeling Bad," the night was one highlight after another, from Butch Hancock's "Julia" from the band's 2002 release Now Again to Ely's "Not That Much Has Changed" from his last solo album. The band is touring on a "new/old" release, 2012's The Odessa Tapes, recorded as demos in 1972 and then forgotten on a shelf in Lubbock for 35 years. The album captured the group in its earliest form, and it's as pure and magical as anything they've ever done. Gilmore's "One Road More" and "Rose From the Mountain" were early favorites, as was "The Wind's Dominion," Hancock's 1979 classic rumination on fate.
Any Flatlanders show wouldn't be the same without Joe Ely's stories (he's an author as well, with his 2007 memoir, Bonfire of Roadmaps). His account of a chance meeting with Townes Van Zandt hitchhiking led to a wonderful "Snowing on Raton," and his tale of a hapless road trip to New York that gave rise to the song "Silver City" was hysterical. The trio was assisted on guitar by Ronnie Gjersoe (Robbie Fulk's guitar mainstay) and his sharp slide work, electric fills, and backing vocals rounded out the sound. By the end of the night, with a romp on their great "Pay the Alligator" and a spirited "White Freightliner Blues," the crowd was singing along with every line, and Ely's "I Had My Hopes Up High" ended the evening in grand fashion.
The Flatlanders have been called "more a legend than a band" or "a country music supergroup," and they are all that and more. Despite having, in Joe Ely's words, "absolutely no ambition among us," they have defined a sound and a style of songwriting that resonates far beyond the their humble beginnings in Lubbock, and continues to delight their fans forty years down the line. A remarkable band, and a remarkable evening. If you can't get to one of their shows, try The Odessa Tapes, and discover the enlightenment of the transcendental living room. Trust me, you'll never be the same.
The Flatlanders: http://theflatlanders.com