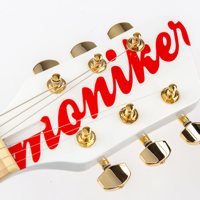 Moniker Guitars
Roll your own six-string…
Ian Koss
Moniker Guitars is a relatively new company engaging in a fairly old trade – making guitars. But there's something very different about what Moniker is doing, and it takes some background to see what it is.
Once upon a time, and it wasn't that long ago, musical instruments were expensive for a simple reason: they were mostly made by hand. The difference between a terrible guitar and a good one can be measured in hundredths of an inch, and between good and great it's thousandths. But time marches on, and manufacturing methods and quality control improve, new materials are discovered, and next thing you know you can buy a decent guitar for not a whole lot of money – if you don't mind having a guitar just like thousands of others.
Prices remain high in the realm of custom hand-made instruments from a luthier, which can run you the price of a car – a used car, or an expensive car, there are many choices. These prices may seem outlandish to a Coverband Chris, but the people who buy these instruments are not only proud owners of a one-of-a-kind work of art made especially for them, but patrons of an important and valuable craft.
If you want something unique, but are not in the mood for parting with a handful of zeros, you can always customize your own. Many guitar gods are famed for attacking their instruments, cheap or not, and changing out the stock parts, hot-rodding them into their famous sound, or hiring some techs to do it. You can find all the parts you need online, if you're willing to invest in some shop tools and learning expenses.
Finally, in an ironic twist, the big instrument manufacturers have gotten into the habit of releasing instruments that are semi-mass-produced genuine replicas of fabled heavily-customized instruments, like Kurt Cobain's Fender Jaguar.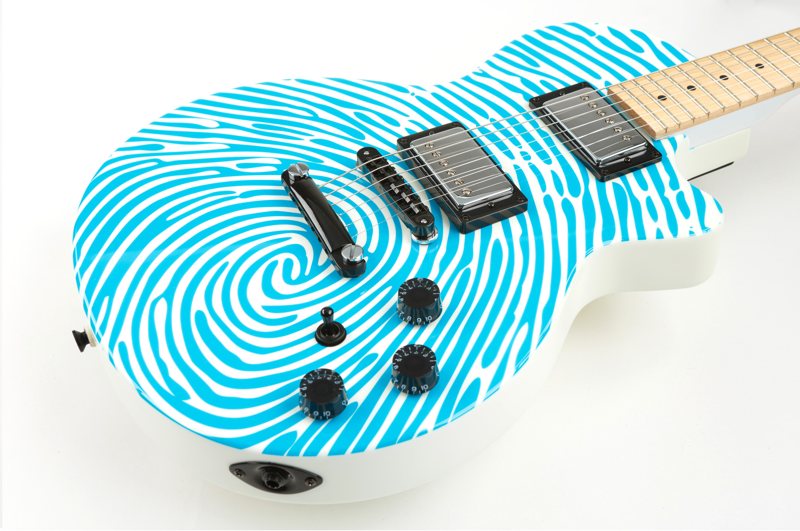 Has anything changed recently? Here's where we come back to the story. Try this: Wander onto Moniker Guitars' website, http://www.monikerguitars.com, and use their online configuration tool to design a custom instrument. This will provide hours of fun for any guitar junkie. For those with the gumption to make their PNG come true, Moniker will take your order, set their Austin-based luthier gnomes to work, and deliver the physical manifestation of your instrument in about four weeks, for about as much as, and often much less than, an overcloned American-made instrument (as of June 2013).
Moniker Guitars was founded in 2011 by Dave Barry and Kevin Tully, in a shared vision of market and ingenuity. Barry had always liked tinkering with guitars. "When I got my first electric guitar, within a day I had taken it apart and become fascinated with how it worked, and how seemingly small tweaks could make major changes. After a few years of modifying friends' guitars as well as my own, I began to build custom guitars as a side project. When Kevin approached me with the idea of doing this on a mass scale and utilizing an online design engine, I was all in."
Blazing ground on ultra-customizable instruments would have been a wasted effort if the end result did not scream past expectations. Nobody wants to hold an awkward cartoon version of their dream guitar, much less play it on stage. To this end, the company decided to invest heavily into the newest painting and finishing techniques. As Barry recounts, "I had to very quickly learn and master an entirely new trade while simultaneously creating a production method for our guitars. We were using environmentally friendly, water based paints, which no other guitar makers were using. This meant there was no manual or 'best practices' for how to use these paints from PPG on guitars – this is the same paint used on Ferraris and Lamborghinis. [But] with hundreds, thousands of hours of practice and testing, I feel that we have reached a level of quality that meets or exceeds that of major guitar manufacturers."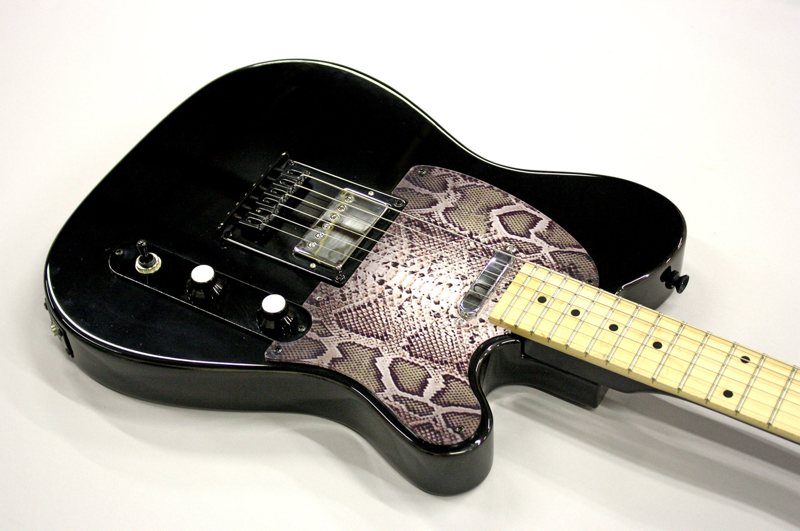 Embracing the high tech goes beyond providing a choice of 29 state-of-the-art (and environmentally friendly) finishes. You can provide your own files for stencils to be used in the finish, or full-color graphics to imprint on laser-cut pick guards. Bodies are available in two familiar shapes, in solid or semi-hollow body configurations, and made by computer-controlled milling and cutting machines. The selection of pickups is generous, and each model has its own unique customizable touches.
Barry is not content to let things be, though. "We are constantly experimenting with new techniques, hardware, and production methods. When we feel that any of these new additions would enhance the customer's ability to design the guitar of their dreams, we add them to the site. Some of the latest additions include the semi-hollowbody options, P90 pickups, Schaller Da Vinci tuners, and new graphic pickguards."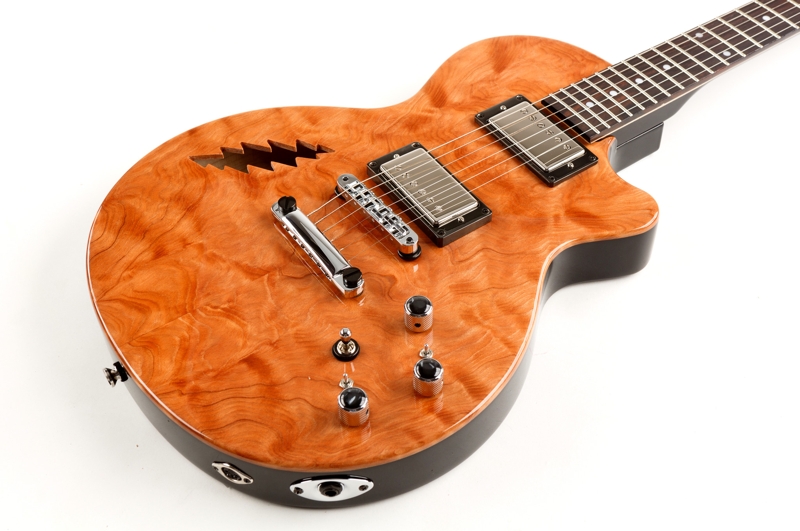 Despite making all of this available to customers through the website, the company still looks to push boundaries, with an extra-custom model to be delivered to Kyle Schutt, guitarist for The Sword. The semi-hollowbody features a 2001: A Space Odyssey theme, and comes with a lightning bolt shaped f-hole and an internal strobe to light it up.
The company recently completed a Kickstarter campaign to fund the purchase of machinery to make the new semi-hollowbody models. Raising an extra 20% over their goal gave the company some much-needed marketing money as well. Kevin Tully, in charge of the customer-facing side of the company, states, "This is probably our biggest challenge. We need to let people know that we're here and show them what we're capable of." Despite the campaign's success, there were some drawbacks. "Kickstarter was super stressful," notes Tully. "As more money was contributed there was always a chance that we wouldn't meet our goal and would miss out on all of it. We're on the fence about whether to do it again."
No matter how future endeavors are funded, the company has no plans to shift its focus from innovation. New shapes are under consideration (a flying V? a Jaguar?), and a bass prototype is making the rounds. However, until said models appear on the website, I'm saving my money for a trans-purple, maple-necked, polka-dotted Dixie.
Moniker Guitars: http://monikerguitars.com ◼
---