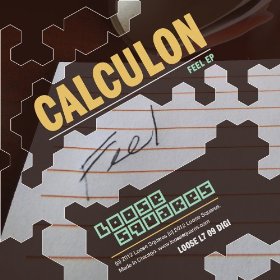 Calculon
Feel EP
Loose Squares
"Scorching footwork-jungle fusion" says the mighty, mighty press release. I do my best, but I cannot keep up with these micro-genres of electronic music. But that doesn't mean I don't like them, I just refuse to create another category directory on my hard drive for a single disc, nevermind a mere EP.
So I'll throw this into the drum and bass pile. It's got that urgent drum with a digital bird call behind it and some nicely menacing black vocals on "Back the Fuck Up." This track unites Calculon (no relation to Bender's nemesis) with Austin Speed (Sublife) and the lyrics sound like a parking-lot argument, scanned and fragmented until you might consider snapping your finger to it. "I Need You" runs solo; the lyrics are a perfunctory embellishment to the solid rhythm with just a light touch of breaks. Small children "Hey!" at us, but they are not the main attraction, it's Mr. Calculon and his drum machine. A guy named Sinistarr (what were his mom and dad thinking?) drops in for a blood fight: a light fuzz of distortion rides on a gentle keyboard riff, and we are mesmerized. The speed slowly fades away as Pawn joins the band for "Crush." This is a more ethereal exploration of rhyme, the hyper speed-drum is suppressed, subtle vocals imply humanity might exist, and the collection is over.
Challenging but rewarding, and a nice slice of Drums & Bass.
Loose Squares: http://loosesquares.com
---