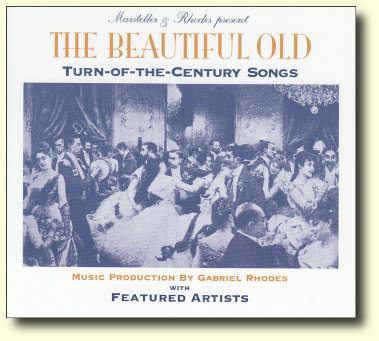 The Beautiful Old
Various Artists
Doubloon
Hard as it is to imagine today with our endless plethora of entertainment choices available, at the turn of the 19th century, if you wanted amusement, you had to make it yourself. No iPods, no 24-hour-a-day cable TV, or even radio. If you wanted to hear a song, well, you bought the sheet music and played it yourself! (Recently Beck rediscovered the form with Song Reader). This was an age of love-struck melodies and adventurous tales set to music, and this 19-song collection gives you plenty of both.
Created by Paul Marsteller and Gabriel Rhodes, it starts off with "The Band Played On" from 1895 in a marvelous interpretation by Richard Thompson and Christine Collister. Unlike other collections of this type, in which the songs are "modernized" to appeal to ears more used to electric guitars and drum machines, the performers here stick to acoustic instruments and the original arrangements. Master musician Garth Hudson of The Band is on ten selections here, playing accordion and piano, and unifies the overall mood of the CD. Along the way we have Graham Parker with "The Flying Trapeze," a wonderful selection for his distinctive voice, and "Long Time Ago" by Texas songwriter Jimmy LaFave. Written in 1839, the song sounds as if it came from one of LaFave's later records. Dave Davies chimes in with 1892's "After The Ball," which sounds like a Kinks song from the mid-'60s. Jolie Goodnight, jazz vocalist and burlesque performer, sounds perfect on "I Love You Truly" and "Silver Dagger," and the entire record is well-matched between artist and song.
Works such as The Beautiful Old are labors of love, an attempt to introduce the culture and passions of the past to a new age. From "Home Sweet Home" to "Ah! Sweet Mystery of Life," these songs are classics for a reason, but if you've forgotten any, this excellent collection will make you a fan. Superb!
The Beautiful Old: http://thebeautifulold.com
---