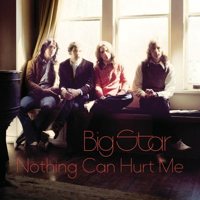 Big Star
Nothing Can Hurt Me Soundtrack
Omnivore
When considering the idea of a soundtrack to a new documentary on the underappreciated-in-their time Big Star, your first thought is probably, "Wait, there wasn't already a documentary on Big Star?"
For a band that was more critically acclaimed and influential than popular, this seems like a long-overdue tribute, but one which is welcome indeed. And with a soundtrack promising alternate takes and demos of Big Star's influential chiming power pop nuggets, so much the better.
The 21 tracks included on Nothing Can Hurt Me are all previously unissued, although for the most part the songs sound quite similar to the album versions. The first two albums #1 Record and Radio City are heavily represented, with only a few songs from the third album. Chris Bell and Alex Chilton's solo albums also get a sprinkling of songs.
There's a reason #1 Record and Radio City dominate the soundtrack. Those two albums are a tuneful, melodic collection of "should have been hits," with probably only "In the Street," (also known as "the theme from "That '70s Show.") and "September Gurls" known to most people.
While the songs aren't that different from their better-known versions, the stripped-down quality and studio banter make them feel more plaintive and melancholy; exposing the beating heart behind the catchy songs and pointing out just how many bands have taken inspiration from Big Star.
"September Gurls" closes things out, and you can picture the closing credits running over this prime example of power pop.
Geared more for the novice, Nothing Can Hurt Me provides an excellent introduction to a legendary band, and a simply amazing collection of well-crafted songs. With such an expert culling of the band's best tunes and solo works for the soundtrack, the upcoming documentary promises to be equally as compelling.
Magnolia Pictures: http://www.magpictures.com
---