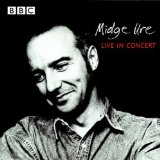 Midge Ure
Live in Chicago
Impressive. This guy has fronted enough projects to make any musical hall of fame, but he's still among the mere mortals of rock and roll. Midge Ure (or as mom knows him, Jim) headed Rich Kids, Ultravox, and Visage, and he was partner with Bob Geldof for those massive musical scrums Band Aid, Live Aid, and Live 8. This laid back concert covers all of Midge Ure's major hits and sounds very clean with only well-modulated applause at the end of songs. Mr. Ure's voice is still strong and powerful; his Scots accent is just strong enough to charm without delving into rock and roll histrionics.
I can't say ALL the hits are here, but it's a nice selection. "Vienna" builds slowly and powerfully, and when the backup kicks in, you'll almost shed a power chord tear. "Fade to Grey" opens with the familiar synth lines, and its tale of loneliness and desolation echo through the soaring refrains. Another song you may still have in your back brain is "Dancing with Tears in My Eyes." It begins like an Aerosmith power ballad, but once the opening fireworks settle down, it's a romping remembrance of loves and opportunities gone past.
There's more here with most of the material from his Ultravox days, and that's just fine. Midge Ure's voice stands the test of time, and after a lifetime of rocking and rolling, he's still one of the best singers in the genre.
Midge Ure: http://midgeure.com
---