Arduino Workshop
by John Boxall
No Starch Press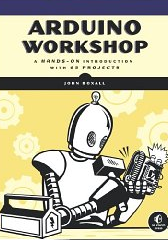 It's time to level up your geek ranking – enough with the graphic novels, overblown superhero movies, and dressing like that guy in World of Warcraft. It's time to learn how to MAKE cool stuff, not just admire it. Maybe you don't have the SAT scores for engineering school, but that doesn't mean you can't pick up a few tips and make some cool stuff for that steampunk dinner dance next week. This imposing book gets you up to speed on the hottest hobby computer going, the Arduino. While it's nowhere near the teraflops Intel's Ivy Bridge or IBM's Deep Blue and chew through, the Arduino is cheap, flexible, and as much fun as you can have on a Saturday night without a date or a new Trek movie. A starter processor will run you less than that opening night ticket, and with this book you can get up to speed in a few hours. Later on you can bling out your Arduino with accessories that give it access to the cell phone network, and who knows? World domination may be just a few weeks away.
With 60+ projects, you can get pretty far with this book. It starts with a few flashing lights, gets you over the hump of learning to write, debug, and load computer code, and then starts expanding with the basics of electrical circuit design and what those colorful bits and pieces of stuff in your computer really do. By the end of the book you can have your processor do sexy things like send you a text when your power goes out or your coffee is ready. There's very little math, so the circuit design skills you'll learn are more ad hoc than engineered, but you'll end up with a knowledge base that can be expanded, perhaps into a paying job. The text is accessible to a bright high school student, and even younger geniuses can make this stuff work, although I'm not sure I'd let them solder quite yet.
The project software is offered with little theoretical background, but you can't really hurt yourself, and I'll give you a cheat: it's an open source package that uses C++ with a bunch of great call routines to all sorts of useful functions. There's more to the Arduino world than this book can show you, but you have to get to the back of the wardrobe somehow, and Boxall's book is a clear and reasonable doorway. I recommend this for the electro-geek wannabe. Billion-dollar empires have been built on less than the contents of this book.
Arduino Workshop: http://nostarch.com/arduino
---