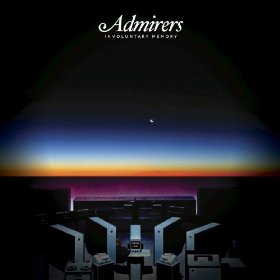 Admirers
Involuntary Memory
Ardent Music
Disco isn't just dead, the formaldehyde preserving it in the halls of Trance and Synth pop and The Pet Shop Boys evaporated long ago, leaving behind something like a freeze-dried ball of ramen noodles. And just like ramen, you can add some hot water and pretty much anything you have lying about, and you'll get an interesting, if not nutritious, musical meal. Mickey Jones (Longwave, Mickey Jukebox) shaved a bit off of everything recorded since MTV gave up on music and ramenized it, bringing us this interesting and eclectic project.
The silky, post-dance "Passengers" synthesizes the ominous 1980s late-night weekend Night Flight to the Neil Tenet-smelling "Nocturnal." We sense the complete synthesis of every style that has gotten one person or another swaying on the flashing Saturday Night Fever dance floor. It's hard to pin down where this disc would land in the genre-pedia; I hear bits of Wire and Duran Duran and maybe a riff of the Gin Blossoms or Boy George. This is eclecticism cranked up, and there might even be a bit of a hit here. "Culture Shock" oozes an urgent and sinuous sound recalling the post-Germs band Twisted Root singing "Snaked."
Liner notes point out that this entire record was produced on the third shift – I agree it works best in the dark after a few drinks and a weird movie or two. I like this product, even if it's a bit hard to describe.
---