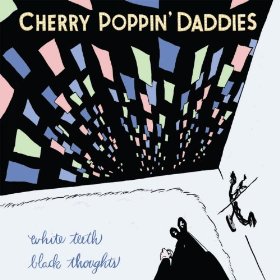 Cherry Poppin' Daddies
White Teeth, Black Thoughts
Space Age Bachelor Pad Records
Back in '97 these guys were the rage, and then they disappeared. Was it the demise of the swing dance craze, a shift in musical sensibilities, or were they just two-hit wonders? Whatever the case, the Daddies are back with their sixth studio album, and it's as good as anything from the Old Days. White Teeth, Black Thoughts comes in two flavors: a 12-track "Regular Release" and a two-disc "Deluxe Edition." Both are worthwhile, so let's take a look at the contents:
The "Regular Release" opens with swinging dance number "The Baboosh." It's a bragging tune with the band leader talking about his conquests backed by a velvety male chorus. Next we meet "Whiskey Jack," who's dating Vodka Jill, and the pair seem to be pretty decent dancers with an MC calling their moves. The title track is a slower big band number; a thin jazz piano line flickers in the background as each instrument gets a feature. Hang out for the touching "Brown Flight Jacket," an upbeat number with a touching back story: granddad survived crashing a bomber at sea during WWII, and as he lies on his deathbed he passes down his legacy. It's not what you'd expect on this otherwise dance-oriented project, but it's a nice change and shows some depth to the swinging frivolity. "Jake's Frilly Panties" is another oddity. There's a layer of static and low-fi, thrift-shop vinyl sound with the lyrics more than a little ambiguous. Lastly I'll mention "I Want a Bowlegged Woman." This is the sort of silly jazz song that appeared after that nasty WWII, yet can still bring a smile to our post-ironic hipster generation.
"Deluxe Edition" feels more Late Night After Show Party and both Buckwheat Zydeco and Zoot Horn Rollo (ex-Captain Beefheart) sneak into the lineup. This disc rips open with the bouncy Zydeco number "Tchoupitoulas Congregation" and follows up with a country song that will never chart, not with a title like "You Wiped Your Ass with My Heart." The song is pretty much as advertised and ought to have Mojo Nixon on it. More C&W poor taste comes in "Peckerheads and Badasses." The sound modern but the lyrics pure Fugs, they sing "As simple as a pig's foot in a beer." I don't write these lyrics, I just report them. More country chaw droolin' comes on "Flat Butts and Beer Guts" which isn't EXACTLY offensive but lots of fun to sing along with. While there are some swing cuts out here in the back 40 ("Throw Back Man," "Platform Shoes"), the second disc is more experimental and generally more fun than the first. I recommend splurging for both discs; there is some good if unexpected material here. Will we all be swing dancing next weekend? I hope not, it's too easy to pop a lumbar disc.
Cherry Poppin' Daddies: http://www.daddies.com
---