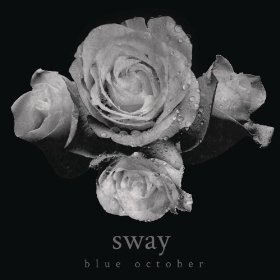 Blue October
Sway
Up/Down Records
If there's one thing you're guaranteed on a Blue October album, it's searing, gut-wrenching emotion. Throughout six previous albums lead singer and songwriter Justin Furstenfeld has captivatingly chronicled his history of mental illness and turbulent personal relationships, and Sway continues that tradition.
That intensity is evident from the haunting piano intro of superb first single "Bleed Out" ("Bleed out / I gave it all / but you can't stop taking from me"). The song continues where previous album Approaching Normal left off, detailing the bitter, acrimonious end to Furstenfeld's marriage. But common to many Blue October tunes, the lyrical depth is matched by an extremely memorable hook. It's an approach repeated on the melodic "Angels in Everything", and the pop-orientated brilliance of "Things We Do at Night".
The hard rocking duo of "Put You In" and "Hard Candy" shows a more aggressive sound to the Texas band's repertoire, while the diversity continues on the electronic-flavored "Debris." The low-slung riff and chiming guitars of title track "Sway" precede the beautiful chorus and string arrangements of penultimate track "Not Broken Anymore," which offers a positive, uplifting end to the record, as Furstenfeld sings he is finally free of the demons that have haunted him down the years.
Sway is another triumphant insight into the complex, tortured mind of Furstenfeld and his unique musical vision.
---