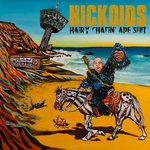 Hickoids
Hairy Chafin' Ape Suit
Sauxtex Media
Oh, Texas. What have you done now?
Any state that can give us both Rick Perry and Roky Erickson obviously defines eclectic, but Austin's legendary Hickoids go past all that into just damn weird. They've been around forever. Their first gig was opening for Black Flag and The Meat Puppets in 1984, and that should give you a clue as to the sort of music you'll find on Hairy Chafin' Ape Suit. It's a mixture of punk/country/Tex-Mex, with filthy lyrics ("Stop It, You're Killing Me" – "I can smell your wazoo clear across the picnic table" is one of the milder ones), over-the-top guitar, and the whacked out vocals of Jeff Smith. "TJ" is a traveler's warning about vacationing in Mexico: "If you go to Tijuana, please don't smoke no marijuana/It might be laced with heroin or PCP." Good advice, that. The record is ten cuts of crazy, from "If Drinkin' Don't Kill Me, Kill Me" and "The Talking Hot Pants Blues," to a drum-machine centered "Cool Arrow" ("All the girlies love my bling bling"). These guys are akin to Hunter Thompson and Louie Gohmert fronting a country band in a roadhouse come Saturday night, full of Chivas and 'shrooms.
In other words… this is country music for us folks who would tear off Bocephus' cowboy hat (with head attached) and crap down his neck while ordering another shot of Jäger. You know, good people that are just a little weird… and Hairy Chafin' Ape Suit is their soundtrack.
Larga vida extraño!
---