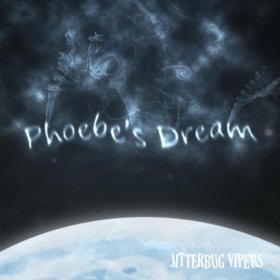 Jitterbug Vipers
Phoebe's Dream
Flying High Records
For those not in the know, a "viper" is defined as an "archaic term for a marijuana smoker." During the 1920s "viper jazz" was all the rage, with Louis Armstrong and his "muggles," Cab Calloway with "Reefer Man," and Fats Waller's "A Viper's Drag" among others. It was a cool, sophisticated swing music, made for dark clubs late at night, perfect for having your "stick of tea" and getting mellow.
Austin's Jitterbug Vipers have kept this music alive with Phoebe's Dream, 11 cuts of what they call "swingadelic," and it's so cool it's nearly frozen. Led by the incomparable Slim Richey on guitar with Sarah Sharp on vocals, Francie Meaux Jeaux on bass, and drummer Masumi Jones, the band is huge in Austin, and for good reason. They take the sounds of a nearly forgotten era and energize it with risque wit and stellar musical taste, and the result is, well, a trip.
"Stuff It" is Sharp's word to the all those whom life seems to have short-changed, while "Dangerous" and "Trouble" offer good advice to those that are hip. To anyone who went to bed with a 10 and woke up with a 5 they give you "That Was Just the Sauce Talking" – I'm sure some of you can relate. "Django's Birthday" is Richey's tribute to the legendary gypsy guitarist Django Reinhardt, and the instrumental gives the listener a short but oh-so-sweet listen to his one-of-a-kind guitar style, a mixture of Hot Club melody lines, Western swing chording, and a bit of country-influenced licks. Slim Richey is a treasure – he's played with everyone from Merle Haggard and Marty Stuart to Milton Brown and Johnny Gimble, and even a recent hit-and-run didn't stop the 74 year old from coaxing his magic from his big archtop guitar.
Viper jazz never seems to go away, from Dan Hicks and His Hot Licks in the Bay area to the great bands of New Orleans' Frenchman Street such as the Cottonmouth Kings. But rarely are they as fun as the Jitterbug Vipers and Phoebe's Dream. Are you a viper?
---