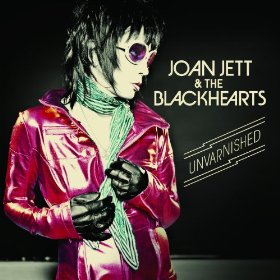 Joan Jett and the Blackhearts
Unvarnished
Blackheart Records
She used to be Under Age, now she's Of a Certain Age. Joan Jett is one of the longest living punkers around; she started under the foul wings of Kim Fowley as the rhythm guitarist and part time singer of The Runaways and eventually started her own group The Blackhearts. She's been offline for a while, but this new album is packed with high-energy tracks and the clever lyrics we remember from her earlier efforts.
Dave Grohl helped write the opener "Any Weather," a straight-ahead "Gee I really like you" love song that is a bit sloppy, a bit romantic, and a bit Rogers and Hammerstein. It breaks away from Jett's tough-girl posing, but the song has heart. I could see a slightly different arrangement slip into a big Broadway show. "Hard to Grow Up" is more in line with her old self. It's a lament for those lost days that maybe weren't as good as we recall. As I track these 13 energetic cuts, I keep thinking, "Damn, these songs sure sound like the Ramones." It's something about that lead guitar; it's haunted or at least tuned by the ghost of Johnny Ramone. It's not like Jett is ripping them off, but there's a twang and an energy that goes all the way back to 1977 in this collection, and that makes it feel sort of warm and fuzzy.
Excuse me, while I go put up some show posters on Sunset Strip.
Joan Jett‎
---