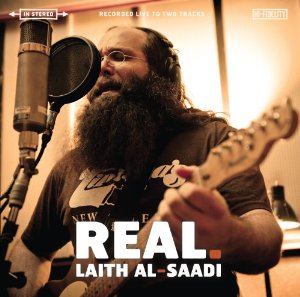 Laith Al-Saadi
Real
WeberWorks
On his third album, Ann Arbor native Laith Al-Saadi continues to astound with his soulful blend of electrifying blues guitar work and stellar songwriting. Recorded live to two-track, Real opens with "Gone," Al-Saadi's quiet acoustic guitar framing the drum work of Jim Keltner and sparse yet supporting bass of Lee Sklar in a somber number showing both Laith's tasteful guitar work as well as his rich, commanding vocal style. Up next is the rowdy "What It Means" with Al-Saadi's Telecaster taking the listener to New Orleans, riding atop some gritty horn work and a second-line drum pattern, with Larry Golding's tasty B-3 organ taking a cue from the likes of Jimmy Smith. Al-Saadi channels a bit of Roy Buchanan with his solo, and adds some nifty double-stop melody lines à la Danny Gatton – and he has the chops to pull it off, in spades.
"Complete Disgrace" is a brooding number with Jimmy Vivino's resonator guitar echoing Al-Saadi's weary vocal, full of menace and trepidation – "I've got to leave this town before I blow" – and Al-Saadi's solo is fierce, a tour-de-force of slow burning lines that reaches impossibly high, but always with his restrained and tasteful musical soul shining through. The song would be a natural for Warren Haynes and Gov't Mule, but I dare say Haynes couldn't top Laith's mastery with the six-string. The Band's "Ophelia" is a well-chosen cover which Al-Saadi brings home in grand fashion, a faithful version that only misses Levon Helm's scrappy vocals.
In short, Real is a rare treat, and further cements Laith Al-Saadi's stature as a blues guitarist to watch – fiery yet tuneful, he knows when to shred and when to hit the groove. You'll be hearing more from this guy – he's a monster. A Real monster.
---