REO Speedwagon
with The Robin Zander Band
Maxwell C. King Center • Melbourne, FL • November 9, 2013
Christopher Long
For years now, I've agonized over a gnawing question: which is the all-time greatest rock and roll band: REO Speedwagon or Cheap Trick? Tick tock, tick tock – c'mon dude, pick one! And although it's a question with which I continue to wrestle, tonight I had the distinct pleasure of basking in the presence of both bands. Sorta.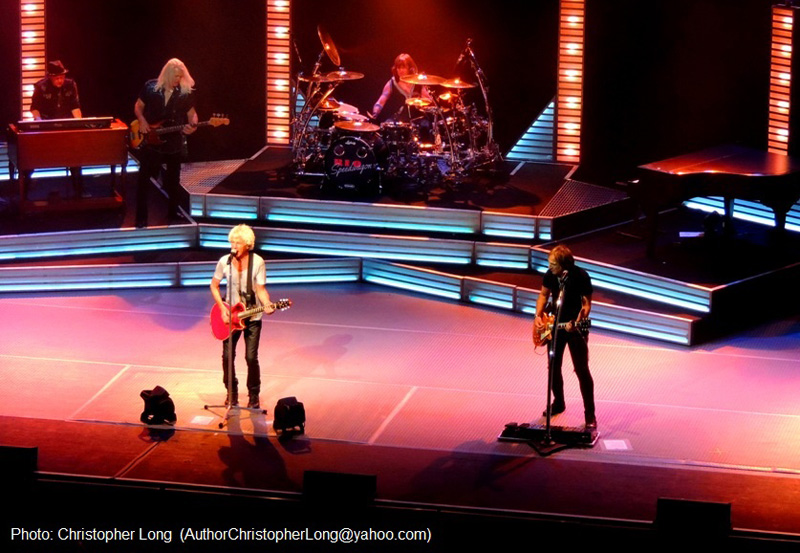 Decked out head-to-toe in full-on rock regalia – leather pants, t-shirt, leather jacket, boots, and a stylish "stars and stripes" scarf – Cheap Trick's vocal powerhouse, Robin Zander, took the King Center stage at 8pm with his newly-formed collective, The Robin Zander Band.
With his face almost completely hidden by his low-riding, cream-colored top hat, the iconic frontman led his band of merry music vets through an hour-long set that featured a fistful of Cheap Trick ditties as well as a slew of staples from the likes of Led Zeppelin, The Beatles, The Rolling Stones, The Who, and AC/DC.
A rock solid contingent, RZB also features one-time Robert Plant guitarist Mark Hitt, former John Entwistle drummer Steve Luongo, bassist Larry Hobbs, longtime Cheap Trick keyboardist Phil "Magic" Cristian, and Zander's son, guitarist Robin Taylor Zander.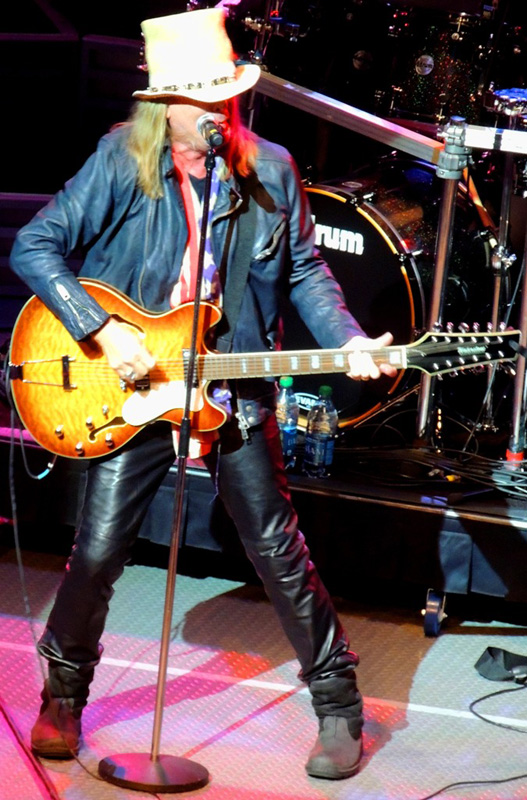 Despite experiencing intermittent audio glitches, equipment malfunctions, and tuning delays throughout the set, the band ultimately overcame and conquered. Musical highlights included compelling recreations of The Beatles' "Golden Slumbers," The Who's "Bargain," and an engaging new arrangement of Cheap Trick's "Love Comes." Accompanied by a miniature-size "Energizer" monkey, Luongo delivered another one of the evening's "wow" moments with his show-stopping drum solo. Props also are owed to Zander Jr. Wearing a rather chic gray suit and tie with a matching skully, the twenty-year-old guitarist not only had the musical goods, but also brought a noticeably youthful, fresh factor to the festivities. For his part, Zander (senior) looked fabulously hippy-dippy-rocky-rolly and was vocally spot-on all night. In sum, RZB knocked out a stellar ensemble performance.
The pulsating power of U2 blasted from the monstrous sound system as the house lights dimmed at precisely 9:30, alerting the revved-up regiment of nearly 3,000 that the evening's feature act was ready to rock!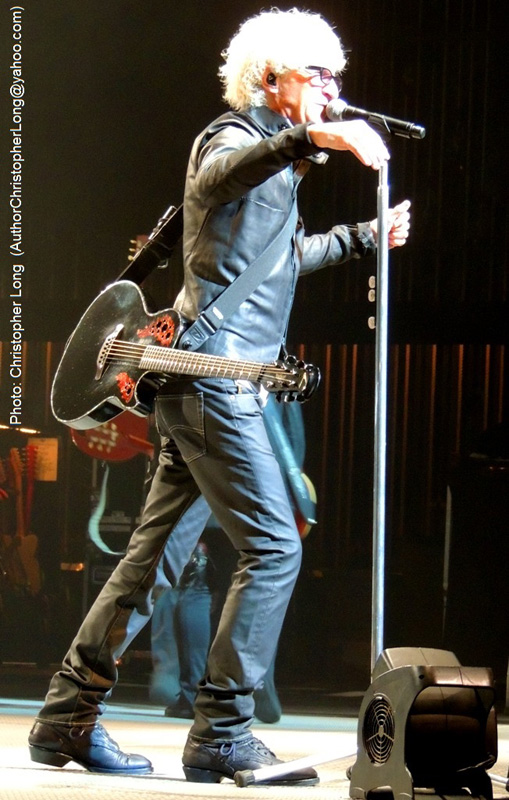 All dressed in classic "concert black," the members of REO Speedwagon ignited the crowd immediately with their signature opening tune, "Don't Let Him Go," as the sweet fragrance of stage smoke permeated the venue – and from there, the full-tilt, ninety-minute onslaught ensued.
In short order, renowned ringleader Kevin Cronin led his troupe through such early set staples as "Music Man," "Take it on the Run," and "Keep Pushin'." And the crowd goes wild!
Yet, despite the cavalcade of classics, this certainly was no tired nostalgia trip. In fact, the Speedwagon of 2013 is less like your dad's '74 Gremlin sitting on cinder blocks, and more like a pimped-out '77 T-Bird – with crazy-looking spinners on the wheels, an iPod in the dash and PLENTY of gas in the tank!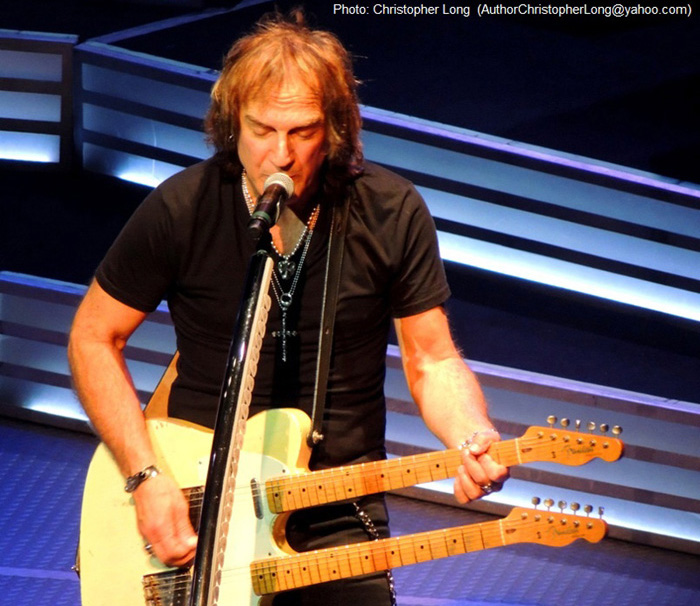 Not only was the band tighter musically than Bryan Hitt's snare drum, the members oozed energy and passion. PLUS, they all looked fit and fabulous – you know, like a rock and roll band. Visually, the show was equally dazzling. Four vertical, 20-foot lit columns made for a clean-looking, yet eye-catching backdrop – positioned behind the enormous, tri-level, metallic riser that was home base for founding keyboardist Neal Doughty (stage right), Hitt (center) and a grand piano (stage left), shared by Doughty and Cronin throughout the night.
Engaging and charismatic, the leather-clad Cronin often assumed the role of a New Age preacher, inspiring the congregation with his refreshing Gospel of Rock and Roll. Equally compelling was perennial guitarist Dave Amato, whose undeniable mystique, swagger and array of vintage Les Paul's likely prompted many to ask, "Gary who?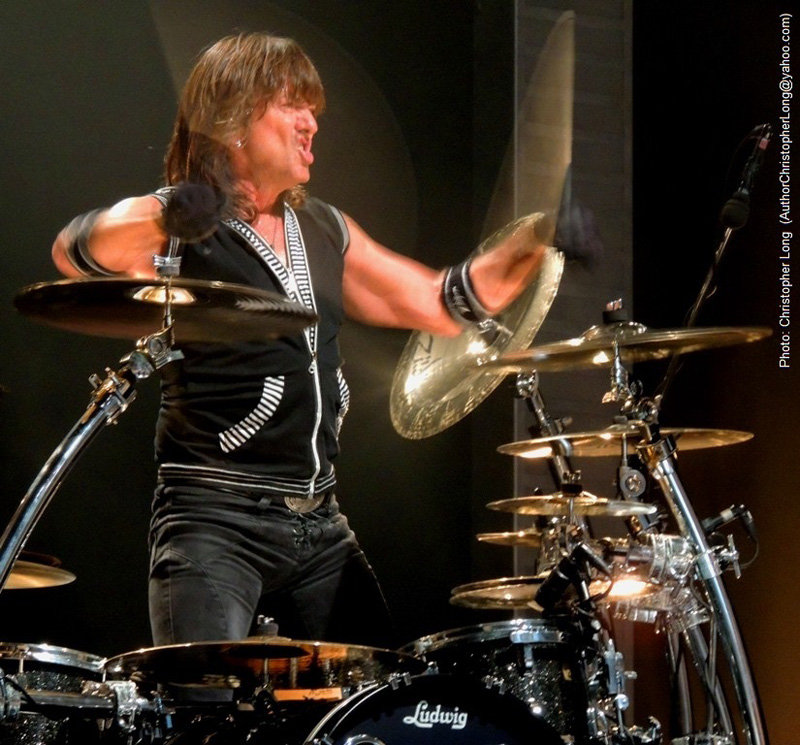 Although the set list leaned heavily on tried and true fan faves, including "Can't Fight This Feeling," "Time for Me to Fly" and "Keep on Loving You," the (for me) surprise addition of such bona fide (and nearly forgotten) gems as "Golden Country" and "Son of a Poor Man" only further amplified the sheer awesomeness of the band, its music and its legacy. I mean, c'mon, there's not a man, woman or child alive who ever tires of hearing Bruce Hall knockin' down "Back on the Road Again," right? And the image of Cronin sitting at that piano, busting out the iconic intro to "Roll with the Changes" remains as chilling as ever. However, as a longtime Speedwagon aficionado, I gleefully would have ponied-up an additional surcharge to hear a song or two from the post-Richrath era, as 1996's Building the Bridge and Find Your Own Way Home from 2007, measure up easily against such acknowledged and much-loved records as REO and Tuna Fish.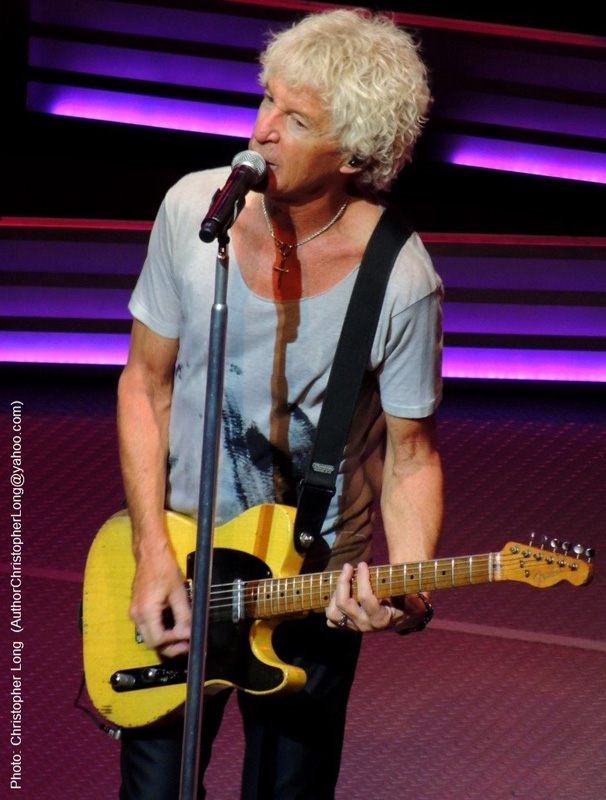 And with Cronin's signature reminder to "always keep 'Ridin' the Storm Out' people," the REO Speedwagon juggernaut came to a dynamic conclusion. Hey, wait a second – could it be? Yes, for the first time in 30+ years, "157 Riverside Avenue" was absent from the set. But fortunately, I have a great therapist who's helping me to work through that. In sum, I laughed, I cried, I screamed, shouted and sang along. Heck, at one point during "Like You Do," I even took off my pants and danced! Gosh, I sure was relieved to have worn an extra layer of Depends. Kudos, kids – see ya next year!
---