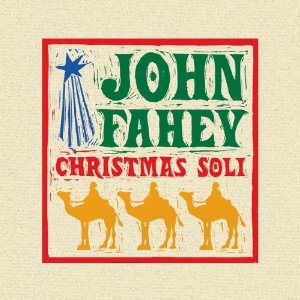 John Fahey
Christmas Soli
Fantasy
John Fahey is the man that more than any other guitarist made the acoustic steel six-string solo guitar a legitimate force in the modern repertory. His versions of the works of blues legends such as Skip James and Willie Brown, generally performed solo and always vocal-less, gave rise to a new genre- "primitive guitar," where songs from gospel, ragtime, and blues were transformed into elaborate showcases for his incredible talent. Before the steel-string guitar was largely looked upon as a band instrument or used to back up a singer, Fahey (and like-minded guitarists such as Stefan Grossman, Leo Kottke, and Michael Hedges) took their version of finger-style playing to the limits.
Of John Fahey's work, from his early Blind Joe Death to his legendary The Yellow Princess, none of his albums sold as much as the Christmas records he made, beginning with The New Possibility. Released in 1968, it sold over 100,000 copies, a remarkable total for a solo guitar album. He went on to release four titles of holiday music, which are represented on Christmas Soli.
For a Fahey record the arrangements stick to established versions, very mannered and generally in a medium tempo, unlike his more acrobatic style on other recordings. Although Fahey himself bemoaned the mistakes in his playing of them, his gentle, sparse settings and song selection have proved to be one of the holiday's most beloved albums, always remaining in print. Now with this new compilation, from "Joy to the World," "Auld Land Syne," and "The First Noel," to a lighthearted "Santa Claus Is Coming to Town," Fahey's renditions of Christmas favorites is a perfect choice for a cold winter morn, and a great way to introduce yourself to a brilliant musician.
Concord Music Group
---