Pixies
with Fidlar
Capitol Theatre, Port Chester, NY • 1/19/2014
May Terry
You have only to see the 2002 documentary, Gouge, to get how influential the Pixies were at the advent of '90s alternative music. So when the Pixies announced an all-out worldwide tour for 2014, the slew of fans quickly swarmed into Port Chester, NY like bees to honey for this sold-out show.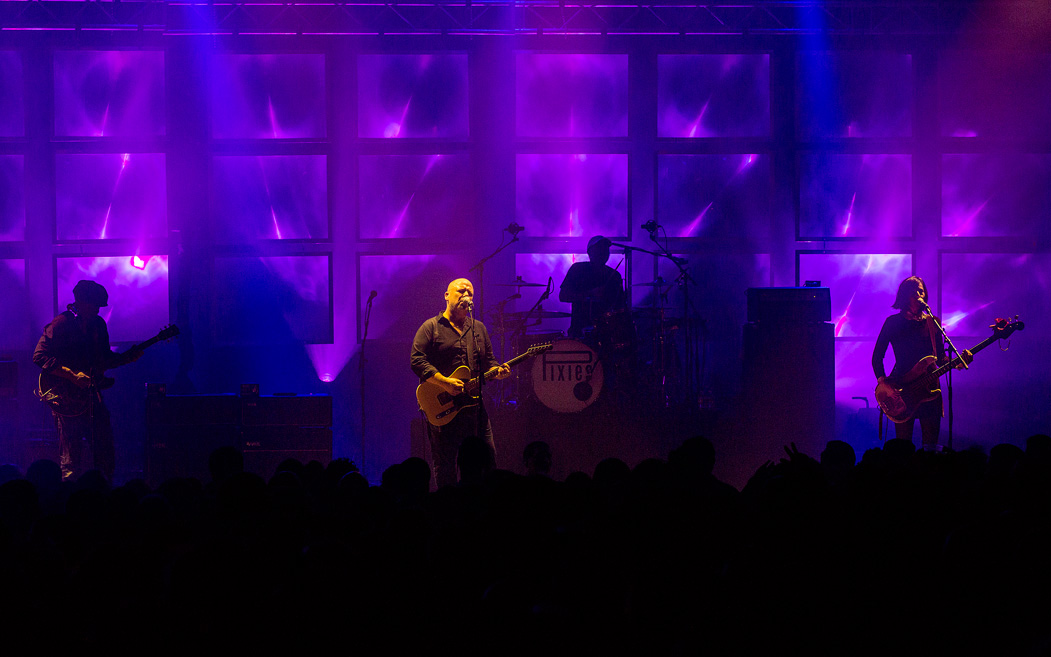 L.A. garage punk band, Fidlar (acronym for Fuck It Dog, Life's a Risk), gave a brazenly good opening set, even if their charged guitar riffs with substance-snorting and brew-guzzling lyrics in songs like "Cheap Beer," "Blackout Stout," and "Cocaine" seem more appro for a Ty Segall event.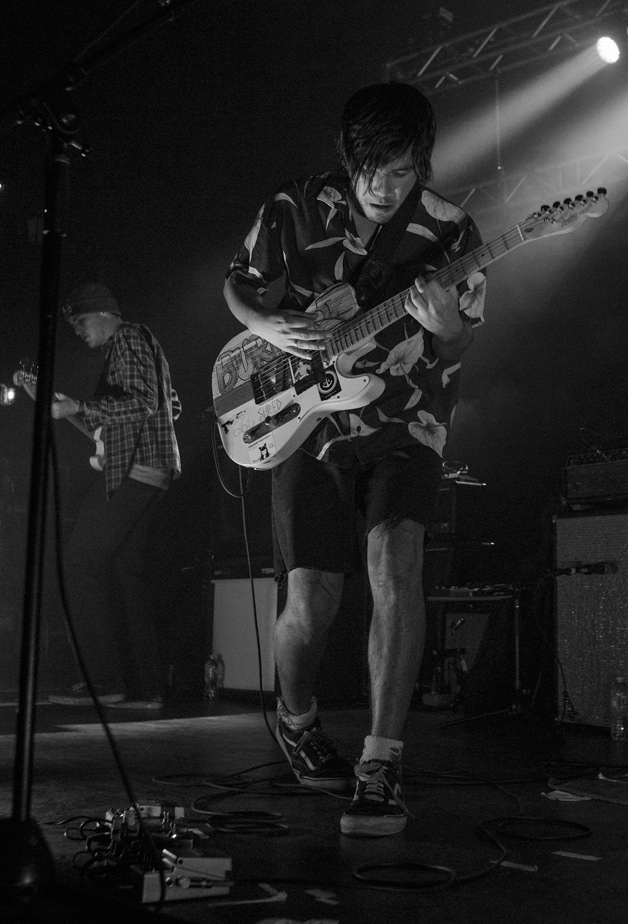 The night however clearly belonged to the Pixies, who went onstage at around 9:15pm. Amid the dramatic backlighting from walled panels and colored floor lights, Pixies packed a 90 minute set and a two song encore with all of the classics from Come On Pilgrim, Surfer Rosa, Trompe Le Monde and their brilliant masterpiece, Doolittle. Also weaved in were the newer songs like "Indie Cindy," "Andro Queen," and "Blue and Green" from their last two releases, EP1 and EP2. Granted, Francis delivers tamer shrieks and shouts and there is a touch less mania from the early concerts of years past. The Pixies however have kept the overall spirit of what made them so great. And some songs like "Isla de Encanta" (from Come On Pilgrim) and "Debaser" were still incredibly energetic.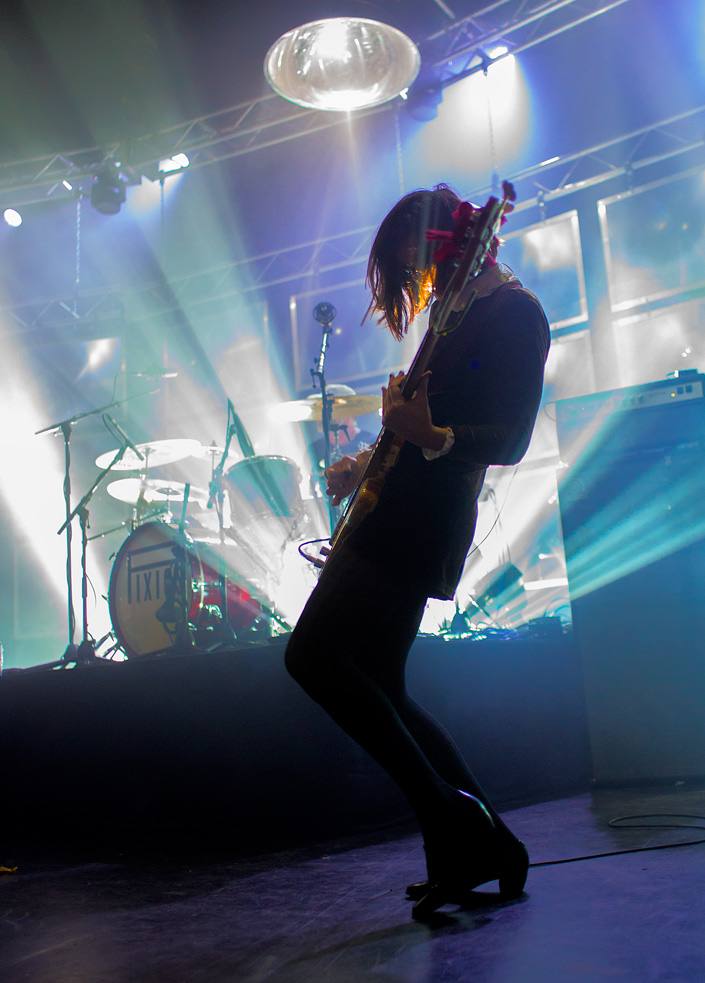 Replacing Kim Deal on backing vocals and bass was Paz Lenchantin (of A Perfect Circle). Lenchantin played a mean bass and harmonized well with Francis, particularly on "Caribou" and "Where is My Mind." She appeared more polished and almost had to work harder to mimic the off-kilter and pitchy voice characteristic of Deal. This comparison may be rather unfair as Lenchantin added a different slant of fem-sophistication to the band.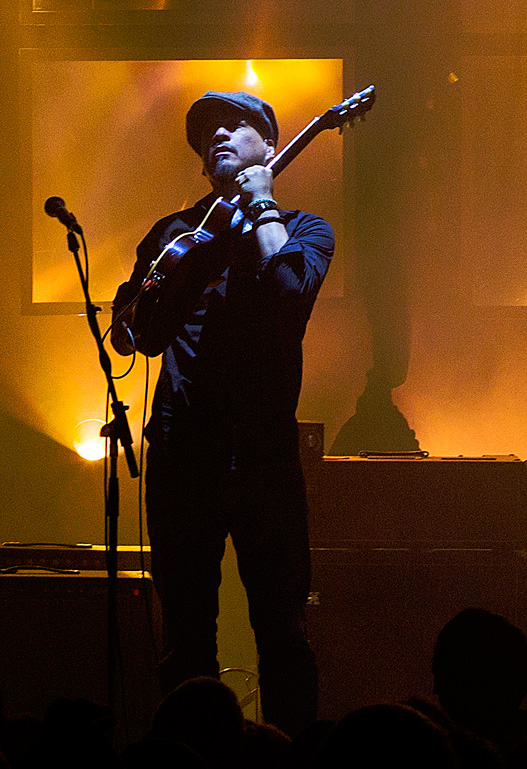 Moreover, there's no question that the celestial bodies of Pixies simply orbit around Black Francis. Yes, Santiago's token reverberatingly dissonant guitar, Lovering's driving beats, and Deal's high pitched and breathy harmonies were landmarks of the Pixies sound. But the gravitational pull of Francis' personality and voice is what truly holds the band's identity together.
With a new bassist and two EP releases that received mixed reviews, it may be tough to wrestle fans away from the urge to stick with their favorite sing-alongs.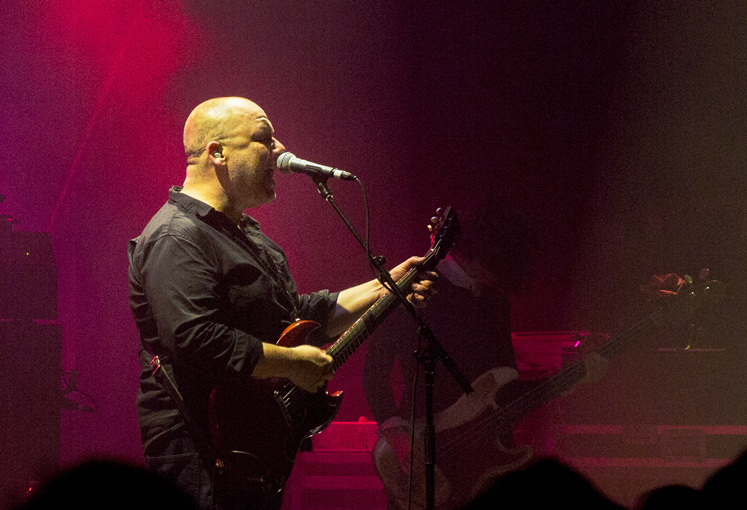 But I'm with you, Pixies – keep pushing forward and ignore any backlash criticism that may shackle you to Doolittle, lest you get killed by 10 million pounds of nostalgic slush from New York and New Jersey. This is a show well deserving of die-hard fans and fresh listeners, serving up a balance of legendary and new songs from a great iconic band that dares to evolve.
Pixies: http://www.pixiesmusic.com/ep2-us/ ◼
---