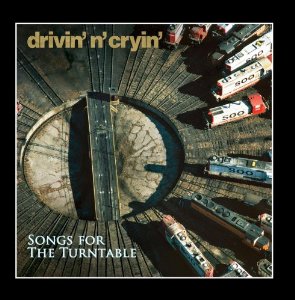 Drivin' N Cryin'
Songs For The Turntable
Blank
Atlanta's Kevn Kinney and Drivin' N Cryin' have weathered the ups and downs of the music business since the mid-'80s with their mix of hard rock, southern-style boogie, a heap of punk attitude, topped off with Kinney's love of lo-fi garage rock. The last year has seen them release 4 EPs (Songs From The Laundromat, Songs About Cars, Space and The Ramones, Songs From the Psychedelic Time Clock) and this last release, Songs For The Turntable might be the best one yet. Recalling the glory days of 1990's Mystery Road and Fly Me Courageous from 1991, this is DnC playing to their strengths – soaring anthems, snaky hooks and gorgeous guitars. "Strangers" starts the five cut EP off in a more roughened Bongos/Paisley Underground sort of sound, with chiming guitars a la R.E.M. or The Feelies.
Next up is "Turn", and this is primo Drivin' N Cryin' – walls of rafter-raising guitar and Kinney's laconic vocals reminding you of past successes such as Mystery Road's "Honeysuckle Blue" or the title cut from Fly Me Courageous – full of swagger and spit, just begging for an arena crowd sing-a-long. "Roll Away The Song" is a memoir in 4/4 time: "I had a lot of dreams / Most came true / I sang a lot of songs / Most for you" before getting to some of those aforementioned hooks, and not many people can craft a catchy guitar part like Kinney. "Jesus Christ" ends the record with Drivin' N Cryin' in your face, slashing guitars framing angry vocals, with a clever cop of the Stones "woo woo's" from "Sympathy for the Devil" on the chorus. It's as if the last 20 years hadn't occurred and the band is just starting out, full of rambunctious energy and so much to say. How many bands of this vintage can still say that?
Drivin' N Cryin' have kept the indie rock flame burning bright for all these years, and while they aren't the darlings of the arena circuit as they were in the day, Kevn Kinney's vision and songwriting haven't wavered a bit – still pushing forward, not resting on their past, still creating vital, powerful music. Songs For The Turntable bodes well for another 20 years of Drivin' N Cryin'…and that ain't so bad.
Drivin' N Cryin': http:// www.drivinncryin.com
---