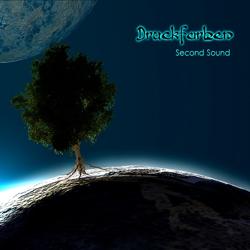 Druckfarben
Second Sound
Canadian progressive rock band Druckfarben returns to the scene with their sophomore effort, Second Sound, and they have never sounded better. Comprised of five seasoned musicians, the Toronto-based ensemble offers an eight-song collection available in both CD and digital download formats.
Guitarist Ed Bernard, bassist Peter Murray, keyboardist William Hare, drummer Troy Feener, and lead vocalist Phil Naro round out this multi-talented quintet. Heavily influenced by such iconic artists as Yes, Gentle Giant, Rush, Emerson, Lake & Palmer, Kansas and Triumph, the group relies heavily on a tight melding of frenetic instrumentation and powerful vocals that leaves you breathless yet yearning for more.
Kicking off the record is "An Answer Dreaming," a high-energy Rush/Yes sound-alike – musically there is a strong hint of both bands, but vocally, Naro is more Jon Anderson than Geddy Lee throughout.
"Dandelion" features Bernard on violin, while "Another Day" incorporates Bernard's mandolin skills, both instruments a new addition to the Druckfarben sound.
"Liberated Dream" opens with a great groove and highlights the skills of each band member in turn. Naro's eerie vocal similarity to Anderson's is uncanny.
Slowing down the tempo of the prior revved-up tracks, "Long Walk Down" offers a beautifully-executed showcase for Naro's voice and Hare's ability, particularly on the opening piano sequence.
The penultimate song, "Another Day," begins with the graceful notes of a mandolin and gorgeous voices rising in harmony, and then switches gears to strong keys and drums, finally wrapping with an a cappella arrangement.
The last song and also the title track, "Second Sound," boasts a running time of over 18 minutes and features Bernard on violin once again, with Naro's soaring vocals rounding out the mix. An epic, sweeping swirl of color and sound, the track switches up just after the 7 minute mark, and then again just before the 11 minute mark.
Undeniably possessing a tremendous wealth of talent, Druckfarben has produced a quality record worth its weight. If you're a prog rock fan, this one is not to be missed.
Druckfarben: http://www.druckfarben.ca/
---