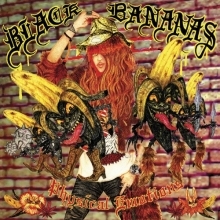 Black Bananas
Physical Emotions
Drag City
It's logical that a band that makes genre-defying, tangled music would have an equally convoluted background. Producer, model, and frontwoman extraordinaire Jennifer Herrema's Black Bananas feature the same lineup as her previous band, RTX, whose second album, Western Xterminator included a song called "Black Bananas." Some members of RTX were holdovers of Herrema's first band, Royal Trux. Still following? Good. In addition to Drag City putting out virtually every album by the three bands, the Chicago label's very first release was a single by Royal Trux.
The Black Bananas serve up a 7" single in advance of their second album. The quintet gets its funk on with "Physical Emotions." The club-worthy tune satisfies with bouncy keyboards and a stompy bass. Herrema's vocoder-treated voice blankets the track with just the right amount of swagger. The B-side, "T.V. Trouble (Hot Chip Remix)", is a reworking of the second song off the Black Bananas' debut album. The double length remake replaces the original track's '80s guitars and galloping keyboards with modern synths.
"T.V. Trouble (Hot Chip Remix)" is the musical embodiment of the 7" album cover. All glittery, garish colors, the cover features a woman standing against a brick wall with two bananas shooting out each side of her torso. The peels are black monster faces with boots, feathers, and a random battle ax hanging off. The pouty-lipped woman is casually giving the finger as she rests her left hand by her pants' pocket. None of this is noticeable upon first glance. "T.V. Trouble (Hot Chip Remix)" is similarly layered and becomes more interesting with each listen. While the lyrics are pretty straightforward ("I like to watch TV/ it's the only thing that soothes me"), the music offers many twists and turns. The track begins and ends with 60 seconds of menacing beats and icy notes. The middle four minutes feature a weave of rat-a-tat drums, stunned guitar riffs, and staccato keyboard chords. However, the busy song never confounds. But really, did you think the Black Bananas would dish out a simple track?
---