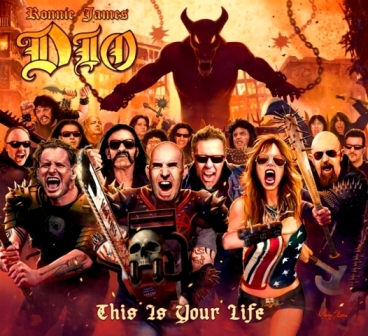 Various Artists
This Is Your Life: A Tribute to Ronnie James Dio
Rhino Records
Produced by longtime manager and wife, Wendy Dio, This Is Your Life is a cream of the crop collection that serves as a hard-hitting and heartfelt tribute to her late husband, Ronnie James Dio.
Although the legendary powerhouse singer/songwriter lost his battle with stomach cancer in 2010, his legacy lives on. And an all-star cast has come together to celebrate the man, his life and his timeless music through revved-up recreations of 13 career-spanning classics – from Rainbow and Black Sabbath to his platinum-selling solo band, Dio.
Thrash metal stalwart, Anthrax, kicks off the tribute with a decisive bang – delivering a spot-on remake of "Neon Knights," the crowning jewel of Black Sabbath's 1980 album, Heaven and Hell – followed by the (almost) equally authentic-sounding Tenacious D cover of the 1984 Dio staple, "The Last In Line." Hey, is that a flute solo I hear?
While old school metal kingpins such as Scorpions ("Temple of the King"), Rob Halford ("Man on the Silver Mountain") and Metallica ("Ronnie Rising Medley") all make impressive contributions, it's actually some of the newer bands, such as Adrenaline Mob ("The Mob Rules"), Corey Taylor of Slipknot ("Rainbow in the Dark") and Killswitch Engage ("Holy Diver") whose tracks pack the most punch.
The classic crunch of Motörhead, pinned against the magnificent vocal of Saxon's Biff Byford makes for a truly magical metal moment on Rainbow's "Starstruck." However, for my money, THE pick of the litter here is Halestorm's version of the lesser known 1983 Dio track, "Straight Through the Heart." Aside from Ronnie James Dio's iconic vocals and legendary dungeons & dragons-themed lyrics, what really made the Dio records zing was the unique and immediately recognizable drum work of Vinny Appice. And Halestorm's Arejay Hale seemingly channels Appice on this track, while Lzzy Hale's vocals are impressive enough to compete with the original, yet still sound fresh. For his part, guitarist Joe Hottinger nails down Vivian Campbell's riffs to a T.
This Is Your Life ends quite appropriately with the title track. Released originally on the 1996 Dio record Angry Machines, the song is a beautiful and chilling duet between Ronnie James Dio and longtime keyboardist Scott Warren on piano, and is highlighted by lush orchestration.
In sum, This Is Your Life is a tremendous tribute effort – one that's well worth the price of admission.
Proceeds from This Is Your Life will benefit the Ronnie James Dio Stand Up and Shout Cancer Fund (diocancerfund.org)
---