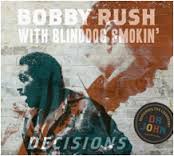 Bobby Rush with Blinddog Smokin'
Decisions
Silver Talon Records
Bobby Rush has been a legendary figure since his time learning harp alongside Muddy Waters and other greats in the Chicago blues scene. He's been around forever – his hit "Chicken Heads" was released in early '70s, and since then he's been nominated for a Grammy for Hoochie Mama in 2000, and last year's Down in Louisiana. His style of soulful blues reminds you of Bobby Bland or Otis Rush, a gritty, groove-oriented sound that brings to mind late nights in a smoky bar.
His newest, Decisions, opens with "Another Murder in New Orleans," a duet with the great Dr. John. It's a graphic tale of senseless violence, recorded in 2012 during Mardi Gras. The collaboration between the two is effortless, with Dr. John's piano and Rush's vocals hitting a stylish match. Backing them up is Blinddog Smokin', a Southern California blues band featuring guitarist Carl Gustafon – he's also the author of 2010's Ain't Just The Blues, It's Showtime. They provide a great palette for Bobby Rush to paint his blues.
From the world-wise "Decisions" to the light-hearted "Bobby Rush's Bus" and "Skinny Women," (Rush ain't interested), this is a great example of a style of blues that you don't hear too much now a days, at least not as compellingly rendered as this. The acoustic "Too Much Weekend" gives Rush's harmonica skills a workout, and if you bypass the ill-suited rap of "Dr. Rush," this is a damn near perfect album.
[Silver Talon Records](www.silvertalonrecords.com/)
---