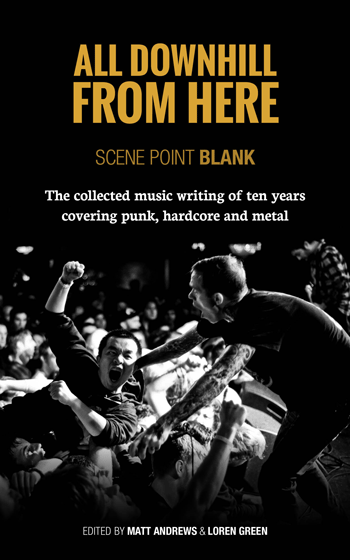 All Downhill From Here
by Matt Andrews and Loren Green
Scene Point Blank
There's just something about a physical book. Sure, it's much easier to get away with reading a website at work, but having an actual book sandwiched between two covers that seems more impressive than a fleeting collection of ones and zeros floating around in cyberspace.
All Downhill From Here: Scene Point Blank collects over a decade's worth of interviews, record reviews, and columns originally published as an outshoot from the AFI messageboard. Anyone with a liking for modern aggressive music would be interested in it.
Most of the interviews are interesting – although Edward R. Murrow would have a hard time getting much out of Evan Dando, and are somewhat surprising. Henry Rollins and Ian MacKaye don't sound very engaged, but John Frusciante of the Red Hot Chili Peppers gives an amazingly coherent and interesting interview. Other highlights include Jacob Brannon from Converge, Strike Anywhere, Ted Leo, and Fucked Up.
The record reviews are described as the site's "bread and butter," and it's hard to disagree. For the most part, the reviews actually describe what the music sounds like, which is a novelty in music reviewing. It is refreshing to see a wide range of music represented, even nominating Ian Anderson's Thick as a Brick 2 as one of the albums of the year.
While that one might be a bit puzzling, All Downhill From Here: Scene Point Blank is a wide ranging trip through modern punk music, with a healthy respect for the roots. Plus, since it's collected in a physical book, you'll look smart reading it.
---