Big Guava Festival featuring Outkast, Vampire Weekend, Foster the People
with Cake, Tegan & Sara, Twenty One Pilots, Girltalk, Violent Femmes, HAIM, Grouplove,
Tampa, FL • May 2-4
Phillip Haire
As I first gazed upon an artist line-up for the inaugural Big Guava Festival, I found an interesting mix of bands old and new – a large indie showing to pique my interest, plus enough established acts that already had it. Perhaps my new favorite band might be lurking just offstage! However, as Friday, May 2 rolled around, so did a nasty system from the Gulf that proceeded to belch rain in record amounts for most of the day. Halfway across the state I nearly aborted the mission, but realizing the show would go on I stayed the course.
Thankfully, the fairgrounds were nicely laid out with two stages covered and two outdoors. Most commuting could be done via pavement, thereby avoiding a Woodstock-esque bog. We were greeted by an awesome mid-way with rides, games, giant stuffed animals, and funnel cakes. Local food trucks and craft beer vendors provided ample options for food and drink. Sadly, they may have been most affected by Friday's deluge.
The rain did let up somewhat for the opening acts at 4pm – Betty Who and NONONO kicked off on the outdoor stages followed by Smallpools, a recently formed four-piece indie pop/synth performing songs from their EP "Have a Great Summer!". The set included their breakout hit "Dreaming" and a cover of New Radicals' "You Get What You Give".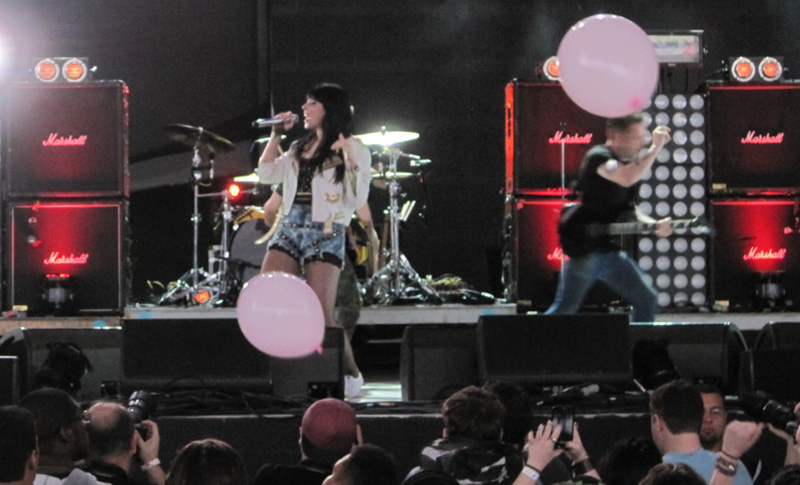 I ducked into the Expo hall (Nectar stage), to check Twenty-One Pilots and dry off a bit. This was my first glimpse at a highly anticipated act whose fans had been in wait nearly two hours. The duo emerged in their trademark masks, settling to a piano and drum set for openers "Guns for Hands", "Migraine", and "Ode to Sleep". Once unmasked, Pilots took on Tears for Fears classic "Mad World", an apparent staple at their live shows. The high-energy set also featured members launching and back flipping off the piano, "dueling drums", and a drum kit into the audience (yes, they held Josh Dun AND the platform), all whilst Tyler Joseph is rapping/lamenting "Semi-Automatic", "Fake You Out", and others. "Trees" served as an encore. I now feel I am in the groove of this Guava weekend and Mother Nature can suck it!
Brooklyn's Sleigh Bells had the distinction to open the main (Big Guava) stage, and did they ever! With towers of light, volume at eleven, and Alexis Krauss' powerhouse vocals on deck, we were treated the "heavier" side of Guava. Sleigh Bells' music is woven through many corporate channels (Apple, Dr Pepper, movie and TV), yet they maintain a rock core while enjoying mainstream success.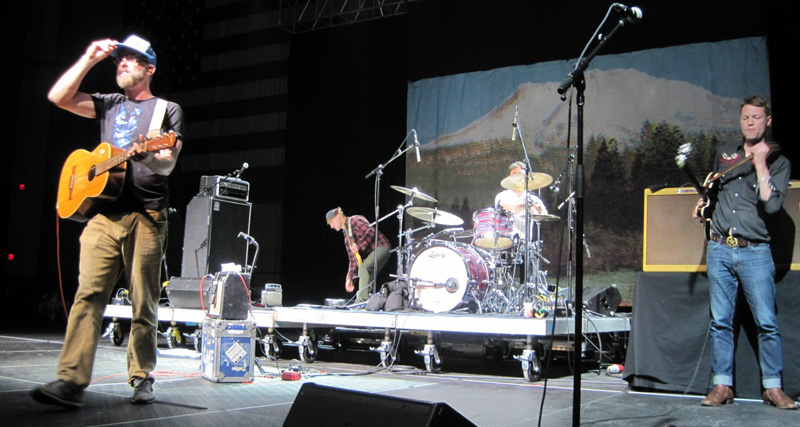 Moving back to Nectar, I was on high alert for Cake, who had eluded me all these years until now. Although difficult to squeeze twenty years of music into an hour set, John McCrea and Co. did a nice job of weaving through their seven albums. "Rock & Roll Lifestyle" kicked things off and "Sheep Go to Heaven" allowed for some crowd involvement. "Its Coming Down" plus a nod to Willie Nelson's birthday, the classic "Sad Songs & Waltzes" took us back to 1996's Fashion Nugget. Cake's last release, 2011's Showroom of Compassion, generated several including "Mustache Man", "Long Time", and "Sick of You". McCrea, Vince DiFiore on trumpet, and the band sounded great as they finished off with "Never There" and, of course, "The Distance".
Finally, back to the Big Guava stage for tonight's main event, the twentieth reunion tour of Outkast! Having reunited for Coachella and an ensuing world tour, this was a rare opportunity for a live performance from a duo eager for airplay during my time as a college radio DJ back in the day. The only thing to prep us for the show was a large, draped cube center stage. As the lights dropped, a red glow overtook the cube and quickly dropped to show the silhouettes of Andre' 3000 and Big Boi sitting at a small table, reminiscent of their days in Big's Georgia kitchen. They launched into "B.O.B." and exited the cube where we first see Andre' in a puffy jumpsuit with F#CK 3000 on the front and a "price tag" attached reading "for sale" on one side and "sold out" on the other, completing the ensemble with a short white wig. WTF?!? Big Boi pretty much sported basic rapper attire (shorts, hat, chains). We were treated to a solid opening set which featured a couple album title tracks – "ATLiens" and "Aquemini". "Rosa Parks", "Ms. Jackson", and "Skew it on the Bar-B" also got the stage treatment with Andre' in constant motion, twisting and contorting all the while. I thought sure he would make a wardrobe change as he was dripping sweat from the humidity and activity, but alas he kept it going as we moved to a solo set by each.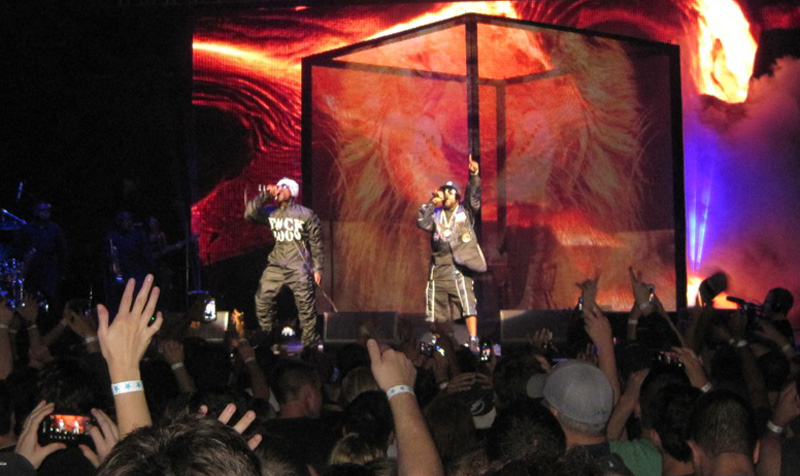 Big Boi's consisted of a killer trio starting with "Kryponite", "Ghettomusick", and rapper Sleepy Brown joining in for "The Way You Move". While Big gets his break, 'Dre drops "She Lives in My Lap", "Prototype", and firing up the crowd with "Hey Ya" – all this going on along with an incredible visual backdrop, most times with scantily clad ladies and trippy graphics. They take a moment to talk about the old days starting out, practicing after school, getting their first break, etc before kicking some older material like "Crumblin Erb", "Players Ball", and "Elevators" among others. The final blast was epic! "Roses", "So Fresh, So Clean", and an homage to all their old school heroes that paved the way for Outkast success. An Underground Kingz tune. "International Players Anthem", proved a fitting finale.
Considering the weather, turnout was respectable and those who showed were treated to some incredible first day talent!
Saturday brought steady rain all morning and thoughts of a potential wash-out. We were graced again with a gradual slackening throughout the day and spirits were not about to be dampened.
I got to many acts the next two days, but the reality of festival going is you can't see it all and I can't transcribe it all. Therefore, in an attempt to get in as much as my legs would carry me, and my notepad would remind me, I hope to share, and stay true to, the total experience. And, away we go…
Up first, Jessica Hernandez & The Deltas from Detroit. Their short set basically consisted of their Demon EP and a few others. I think this is one to watch– Hernandez has the vocals covered and the band has a tight horn section to compliment the rocking sound. Speaking of rocking, Miami's Jacuzzi boys had the most straight-ahead, stripped down rock sound of the entire festival. Dug it! I caught fleeting glimpses of American Authors, who drew a nice crowd (of young girls). A charismatic group with an upbeat approach, they also integrate banjo and mandolin to maintain a fresh sound. I was able to hear them do "Best Day of My Life", one of their most popular, and a few others from the album Oh, What a Life. Civil Twilight, on the other hand, had a bit more moody jam-band feel that I really enjoyed. Anchored by South African brothers Steven and Andrew McKellar, Civil Twilight is riding a wave of success from constant touring and usage of their music in television. There was a cool synergy in the falsetto vocals, keyboards, feedback, and lush sound they produce – something that could easily become a hot mess without the proper elements in place.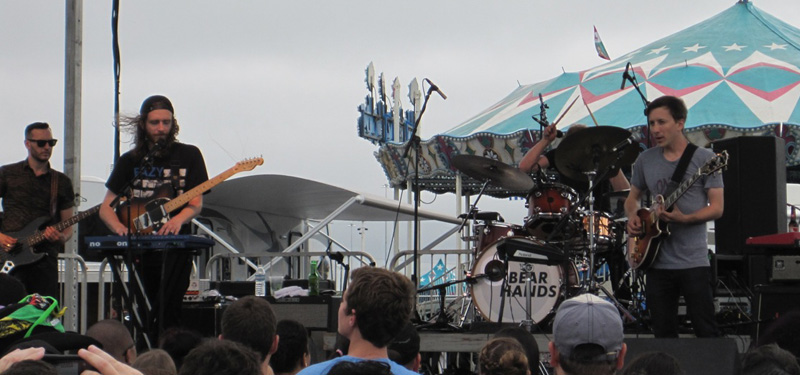 Bear Hands are one of the bands I was eager to see live and they did not disappoint! I, like most, had heard their breakout song "Giants" and wanted to see how they would bring it live. We were treated to most of the Deception album, which delves into many real-life issues the band has experienced. "Bad Friend" and "Crime Pays" come to mind! They translate it through an infectious punk/psychedelia. Hopefully, some of the delays that have hindered the band to date are behind them and they can keep moving forward!
I stated previously my new favorite band may be about… After seeing them live, Band of Skulls get the nod! This English trio is for real, folks, and they earned it the hard way – touring their ass off and letting their music to the talking! We got a sampling from all three Skull's records – "Devil Takes Care of Its Own", "Death by Diamonds and Pearls" and "Asleep at the Wheel", all provided a straight-ahead rock experience.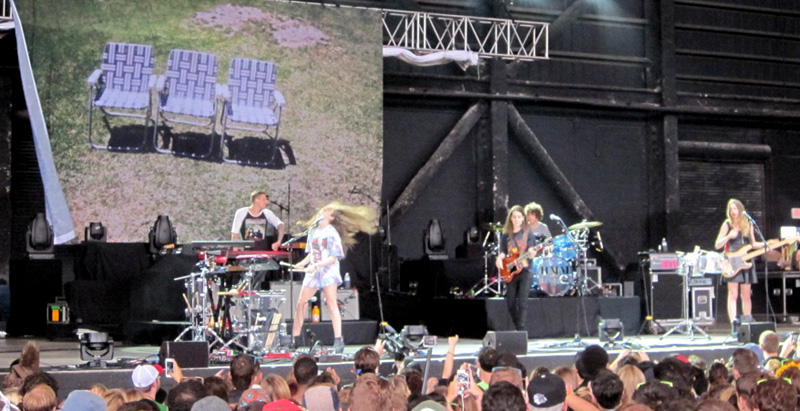 The Big Guava stage's first familial gathering was with HAIM, three multi-talented sisters whose accolades are no joke. I was impressed with how seamlessly they seem to float through songs, and harmony – no easy task. Not shying away from comparisons to Fleetwood Mac, "Oh Well" found its way into the playlist along with most songs from Days Are Gone. I enjoyed the undeniable catchiness of "If I Could Change Your Mind" and the more headstrong "Let Me Go". -bm Brothers Justin and Jeremy Furstenfeld bring alt-rock group Blue October to stage next. Formed in the mid-nineties, they had plenty of material to pull from. I remember the song "Hate Me" (which they performed), along with material from their latest, Foil. Some cool, moody rock infused with violin and cello.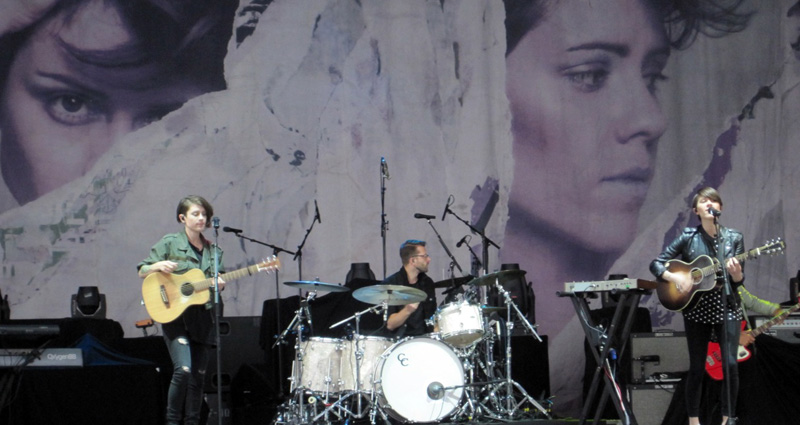 As our family continues to expand, we move to Canadian sisters Tegan and Sara, who drew quite a crowd and wasted no time, opening with "Back in Your Head". Their pixie looks and charm were fun and relaxed. Tegan did most of the banter, speaking of being in Florida's heat and sis Sara's mansion purchase in Boca Raton (Sara says she lives in Orlando). After several songs, they gave a shout-out to Tiesto and played "Feel it in My Bones" followed by, as Tegan said, an alt-country song "Living Room". They moved through many songs before ending with "Closer". Tegan and Sara were a great prep for the remaining three bands of the evening.
Slightly Stoopid brought their Cali-drenched rhythms to the Grove Stage, of course encouraging the fans to "fire up & join in!" I, however, soon had to make a break to check out Jason Bonham's Led Zeppelin Experience! Zep is where I lived as a teen so this was not to be missed. There was a suprising turnout of both young and old to witness Jason's commanding presence on center stage, sporting the three-ring symbol synonymous with his father.
The band was right on point as they belted out "Rock and Roll", "The Ocean", and "Thank You", a personal wish from Jason to the crowd as he recalled many special moments with his father while in-state. Killer versions of "Since I've Been Loving You", "When the Levee Breaks", and "Kashmir" highlighted the power of Bonham's drumming prowess, naturally finishing with "Stairway to Heaven"–just enough time to haul ass to the main stage for Vampire Weekend.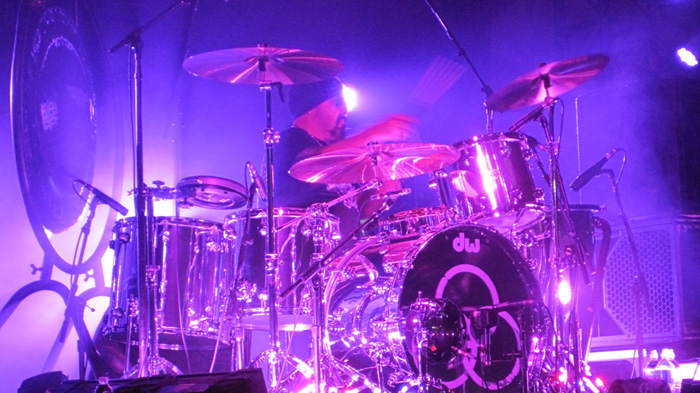 I had seen Vampire Weekend live shortly after their debut release blew up on college radio. It was a fresh, pure sound that captured us as they played the entire record, a couple covers when Ezra Koenig politely declared, "that's all the songs we have for now, we'll keep working on more". Fast forward to current indie darlings who are headlining tours, festivals, etc worldwide! VW have stayed true to their sound almost to a fault in my opinion. Sure, there was the grand stage set-up, smoke machines, khaki shorts, and the rest, but the live performance is rather one-dimensional. They mixed songs from all three albums nicely through the set, starting with the newer "Diane Young", moving to "White Sky" from Contra, then to "Cape Cod Kwassa Kwassa" from the debut. The band is tight, no doubt, and they exhibit the range from "Everlasting Love" to "A Punk". The hour and a half set also featured "Ya Hey", "Oxford Comma" and "Obvious Bicycle", which led us to a short break before the encore. "Hannah Hunt" opened followed by "One (Blake's Got A New Face), and a spirited version of "Walcott" to send us dancing into the night.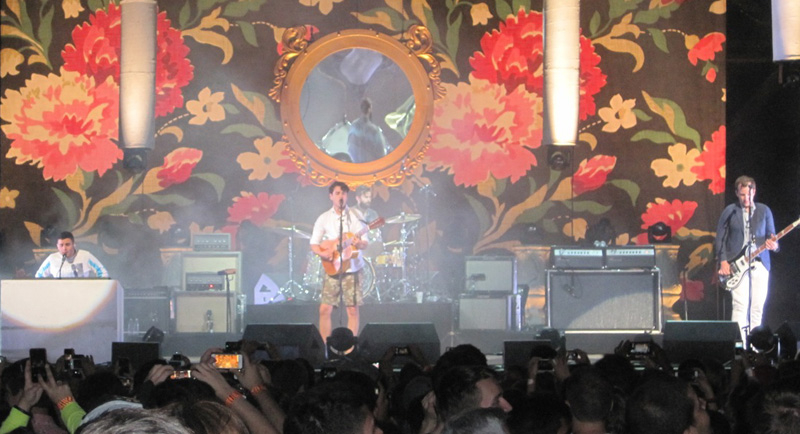 Sunday opened with sun, glorious sun! The final day was sure to be hopping and proved to be so with many bands of the day presenting a synth-poppy feel, definitely attracting a younger, following. Among them, Magic Man, St Lucia, Walk the Moon, and Timeflies, who had an EDM vibe working at Big Guava stage.
I was impressed by an early performance from MS MR. The duo delivered the goods from their Secondhand Rapture release showcasing a cool, vintage sound. Stay tuned for new music from MS MR!
Rap/Hip-hop was also represented today – while I missed the Earl Sweatshirt set, I made time for Chance the Rapper. Chance has been getting a lot of exposure in the last year or so from his acclaimed Acid Rap mix-tape and festival circuit. I felt Chance lived up to the hype with his rhymes and backing band, complete with horn section. Most in the audience were line for line with him, a testament to his following as he burned his nervous energy off on "Juice", "NaNa", and "Smoke Again".
Back at the Big Guava stage, Grouplove presented themselves as a real contender via Hannah Hooper's vocals and strong instrumental backup. Mostly in support of last year's Spreading Rumors release, "Im With You" opened the show, with a heavy synth backbeat., followed by more fun, melodic rock. "Rasberry", "Shark Attack", and "Hippy Hill" were also highlights from the new record. Grouplove had some fun with a Beyonce' cover "Drunk in Love". Their early hit "Colours" closed the set.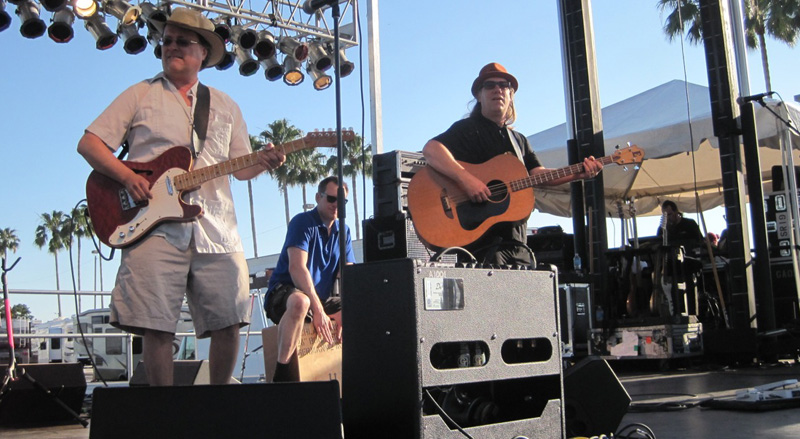 I now face a festival quandary–two bands overlapping, what to do?!? I opted for the entire Violent Femmes set, of course! As the "elder statesmen" of alternative, they wisely chose to play their self-titled album in its entirety, encompassing many Femmes "hits" – "Blister in the Sun", "Add it Up", "Kiss Off", and "Gone Daddy Gone". Victor DeLorenzo, a recent addition on perecussion, provided an energetic beat to Gano's simple, stoic delivery. Although amicable enough, with some light banter, he was mostly running through songs to fit within the hour confines. The Horns of Dilemna were present to really accentuate the songs. Former Stooges sax-man Steve McKay even made the tour and sounded great! "Give Me the Car" and "American Music" rounded out this much-anticipated set.
A mad-dash over to Nectar Stage found Girltalk already wreaking full-on party mayhem. A stage filled with people dancing and giant inflatable feet and hands extended upward as if on your back, Gillis held court with his endless mash-up of samples mixed seamlessly as if he is an other-worldly wizard. Having seen Girltalk live before, I am no less amazed at his skill and prowess to keep everything controlled amid the chaos of balloons, confetti, and toilet paper guns. His set was from 7-8:15pm–much too early! The energy and enthusiasm he generates would best be served as a closing act. "It will be hell for Foster the People to follow up an act like that", shaking my head as the show came to a climatic finale.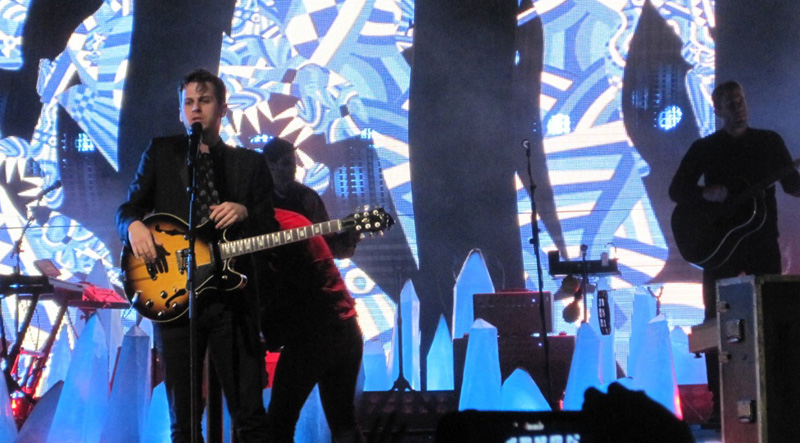 I had only limited exposure to Foster The People, save for the cross-over hits "Pumped Up Kicks" and "Don't Stop", both brilliant, catchy songs. As they emerged live, I witnessed a much more talented and well-rounded group, with a confident namesake/vocalist Mark Foster at the helm. Sure, they have the looks and coiffed hair, enough to sustain similar indie pop groups, however, FTP crafts songs very effectively using keyboard/synthesizer as the base for Foster's multi-range vocals. Opening with "Life on the Nickel" from the debut Torches, FTP had it all: big stage show, lights, presence, and fan base! They got in about a dozen songs before the encore – Much of it taken from Supermodel, "Ask Yourself", "Coming of Age", "Are You What You Want to Be?", an acoustic "Goats in Trees" to name a few. The obligatory encore was entirely from Torches – "Helena Beat", "Pumped Up Kicks", and a rousing "Don't Stop" proved an appropriate close the 2014 Big Guava.
While there are shortcomings to the "festival format", the beauty lies in exposure to many bands to whom you would either not get access, or have to chase down individually, spending tons of time and dough in the process. Big Guava opened my aged eyes to many new bands on the cusp of "big-time" or currently enjoying the peak of their popularity. My thanks go out to Live Nation and Florida State Fairgrounds staff for a great job hosting what I hope will become a bigger, juicier Guava in 2015!
Big Guava Festival: http://www.bigguavafestival.com ◼
---