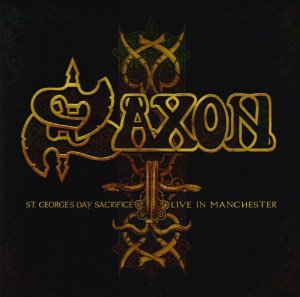 Saxon
St. George's Day Sacrifice – Live in Manchester
UDR Music
If you are not a fan of Saxon, chances are, the artists and bands you are a fan of, are fans of Saxon. As one of the pioneering bands of the New Wave of British Heavy Metal (NWoBHM), Saxon has influenced most of the hard rock and heavy metal acts of the 80's, which then influenced the bands that followed. As such, I have been fascinated by the band since reading interviews with Metallica and Megadeth citing them as influences back in the '80s. Before the internet allowed easy accessibility, finding some of that music was difficult for a small-town boy like me. Now, however, I am familiar with them and I get it.
Saxon has a history of performing every year on St. George's Day, the patron saint of England. This set comes from their 2013 performance in Manchester. The result is a two-disc set with a good mix of classic tracks like "Wheels of Steel" and "Denim and Leather" and new songs from the recent album Sacrifice including the title track and "Made in Belfast," interspersed with some great stage banter from frontman Biff Byford. The guitar work from Paul Quinn and Doug Scarratt is face-meltingly good, and the rhythm section, Nibbs Carter (Bass) and Nigel Glockler (Drums), will shake your bones. This is never more apparent than the second track on Disc 2 where they drive the crowd into frenzy during their cover of the Christopher Cross classic, "Ride Like the Wind." The quality of this recording automatically places this in my Top 5 Live Albums list. All of the levels are perfect, with none of the instruments overpowering the vocals. The crowd noise is present, but also not distracting. While some post-processing sweetening may have been utilized, it is not readily apparent. My compliments to the initial recording and post-production teams.
That said, as with any live album, you always have those live album nitpicks – "Where's my favorite song?" or "Why are they playing new songs?" And while most of the interstitial patter is funny, sometimes it just drags on when you want to get to the next song. Saxon fanatics probably already have this album. If you are only a passing fan, you should definitely give this a listen. However, if you are curious about this oft-mentioned musical influence, this is a perfect introduction. Hearing Saxon in a live setting with a great crowd doing a greatest hits set, is the next best thing to being there.
---