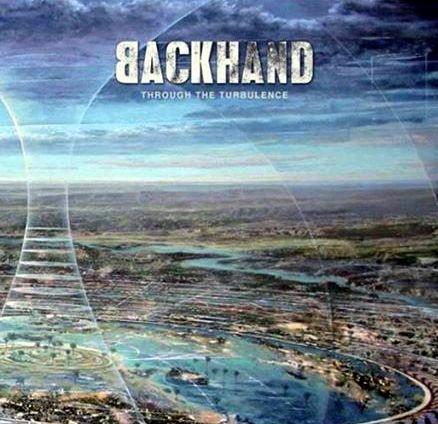 Backhand
Through the Turbulence
Melodic Revolution Records
Progressive rock fusion band Backhand spent three years honing and crafting its February 2014 release, Through the Turbulence, and the result is nothing shy of brilliant. The seasoned combo is comprised of an uber-talented Venezuelan quartet featuring keyboardist Adrian van Woerkom, guitarist Pablo Mendoza, bassist Oscar Fanega and Adolfo Herrera on drums and percussions, as well as American/ Canada-based Phil Naro, whose soaring Jon Anderson-like vocals lend the finishing touch to this 12-song collective of sweeping, epic tracks. Backhand has created something quite spectacular, an effort not overlooked by Orlando, Florida-based Melodic Revolution Records, the band's newly-signed label.
Comprised of a series of shifting sections that showcase the individual skills of each player, the 11-minute instrumental, "IntrospeKtion," solidly kicks off the record, from the opening Metallica-like drums and the Sisters of Mercy/"This Corrosion" goth-choir sound to the Dream Theater, Yes and Pink Floyd-inspired chunks.
With hints of Pink Floyd's "The Wall" during the opening guitar work, "Hold the Light" features Naro's unrivaled vocals and van Woerkom's alluring piano work throughout.
The politically motivated "The Big Red Wall" focuses on the band's rejection of illegal dictatorship. Naro begins by beseeching the listener with a Middle-Eastern sounding chant as heavy guitars and bass support the breakdown of political boundaries.
One of the many gems on the record comes in the form of "A Million People Crying" (Pts I and II). Less frenzied and boasting a more melodic array of instrumentation than many of the other songs, Pt I with Naro's golden voice lends itself well to a global entreaty – "A million people dying and we're doing nothing." Hauntingly beautiful with accompanying strings, piano and acoustic guitar comingled with strong bass, Pt I segues into Pt II's darker, stronger, heavier piano/bass interplay.
"Tears From the Sea," another heavily Pink-Floyd inspired instrumental, boasts underemphasized rather than overt sounds and slowly builds into a final overture.
With heavy echoes of Jon Anderson/Yes and even some opening Kansas influences, "Crime Story" returns to Naro on vocals with an introspective piece that revisits painful memories and moments of regret. Mendoza's guitar work is outstanding as is van Woerkom's Kansas-style keyboard sound.
Closing out the record in perfect juxtaposition to the prior powerhouse anthems is the ethereal, acoustic-driven "Me, Myself and I," so vastly understated yet joyfully compelling. Naro outdoes himself vocally while Mendoza and van Woerkom shine magnificently on guitar and keys.
There's nothing about this record that is either amateur or unprofessional. The stellar musicianship offers a myriad of sound and color interwoven with a high-quality mix, and the more you listen to it, the more hooked you will become. Progheads, get your hands on this one as soon as possible.
---