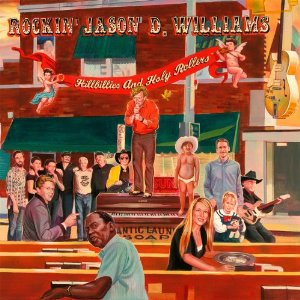 Jason D. Williams
Hillbillies and Holy Rollers
Rockabilly Records
For over 30 years Jason D. Williams has been pounding the daylights out of a piano, serving up a stew of rockabilly, country and blues that always sounded uncannily like Jerry Lee Lewis. Well, turns out its more than uncanny…it's genetic.
The Killer himself has acknowledged that Williams is indeed his son, and boy, the apple didn't fall far from the tree. On his newest album, Hillbillies and Holy Rollers, Jason follows in the footsteps of Lewis, actually recording the record at the legendary Sun Studios in Memphis, where of course Jerry Lee helped invent rock and roll. From his amped-up manner on the 88s, to his voice, who's yelping enthusiasm is seemingly a family tradition, Williams keeps alive the early days of rock n' roll, where all manner of material was likely to be had. From "Sweet Georgia Brown" to the closing medley of "Old Time Religion" and "I'll Fly Away", everything from pop to gospel to pounding rockabilly gets the Williams touch, and as the kids say, it's all good.
Produced by the great honky-tonker Dale Watson, and featuring one of the founding fathers of rockabilly, Sleepy LaBeef on guitar, this is a party on a platter for certain. From the classic country of "Folsom Prison Blues" and Hank Williams "You Win Again" to Joe Ely's "Fingernails"- I keep my fingernails long so they click when I play the piano, Williams sounds like he's having a ball, and I'm pretty sure you will as well. You might just say Hillbillies and Holy Rollers is Killer. And I don't think Jerry Lee would mind a bit.
---