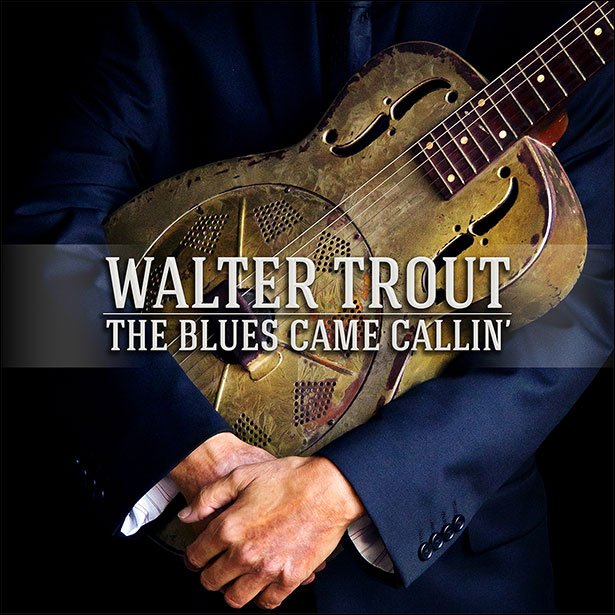 Walter Trout
The Blues Came Callin'
Provogue/Mascot Label Group
From the opening note of Walter Trout's latest offering, The Blues Came Callin', this down and dirty, in your face, authentic blues record hooks you immediately. Set for a June 10, 2014 release and meant to commemorate Trout's 25th year as a solo artist with a book, documentary and tour as well, the 12-song collection features introspective, heartfelt raw emotion peppered with funky grooves. The seasoned blues singer, writer and guitar phenom has been sidelined with radical health issues. But after a grueling and painstakingly lengthy wait, Trout underwent a liver transplant and appears to be on the mend. Great news indeed, not only for Trout and his family, but for the music community as well.
After collaborating with such iconic artists as Percy Mayfield, Canned Heat and John Mayall's Bluesbreakers, Trout realized his need to kick his drug and alcohol addictions. He cleaned up his act and made the break to pursue an individual career. With close to 30 solo records under his belt, the gritty bluesman still graces the cover of every album with his very first Strat, and The Blues Came Callin' is no exception. Of the 12 tracks, 10 were written by Trout, the exception being his cover of Chicago blues-scene legend J.B. Lenoir's "The Whale," a tribute to both Lenoir and Mayall, who introduced Trout to Lenoir's music, and "Mayall's Piano Boogie."
In obstinate defiance of his disease-ravaged body and 100-pound weight loss, Trout rebelliously comes out swinging on the crunchy, bluesy opener, "Wastin' Away." He is not giving up, and this record is his testament.
Touting an epiphany-motivated revelation and steeped in resonating dobro and harmonica, "The Bottom of the River" conveys exactly what Trout has had to endure – the metaphorical journey of being dragged to the depths of a river's bottom only to emerge with a renewed energy literally to fight for his life. "Then I heard a voice inside me. And it sounded like a cry. And I heard it scream so loudly. This ain't your time to die."
Accompanied by John Mayall on Hammond B3, the title cut offers an all-out blues jam and showcases Trout's exceptional guitar skills. Mayall also is featured on "Mayall's Piano Boogie," an impromptu boogie-woogie studio jam that was recorded in one shot and offers a more upbeat, fun sound as do the Freddie King-inspired instrumental, "Tight Shoes" and the Chuck Berry-style "Take a Little Time."
Motivated by his love for big cities after growing up in Philadelphia, Trout deftly exemplifies his guitar work on "Born in the City," closing it out with a distinctly Allman Brothers' "Whipping Post" sound.
Wrapping up the set is "Nobody Moves Me Like You Do," Trout's soulful dedication to his wife, Marie, who has been his rock and his inspiration throughout his debilitating illness.
There is nothing about this record not to love. It is a must-have for any blues fan and a towering triumph for the tenacious Trout and his enduring career.
---