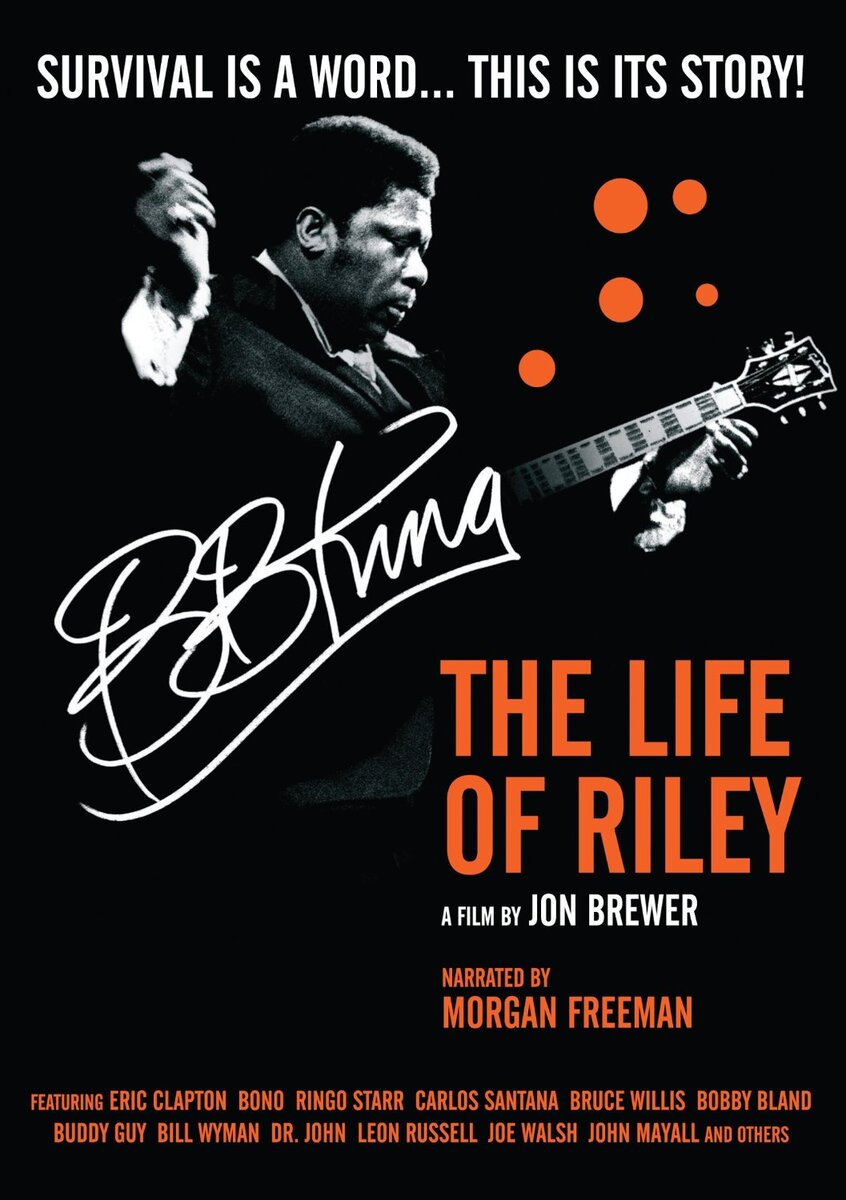 B.B. King: The Life of Riley
directed by Jon Brewer
starring B.B. King, Morgan Freeman
MDV Visual
To those that knew him working in the fields around Indianola, Mississippi growing up called him Riley. Once he got on the radio and performing on Beale Street in Memphis he was known as "Blues Boy". Today we call him B.B. King, and he is one of the most influential and recognizable figures in the blues. This overdue look at his life, narrated by Morgan Freeman gives one a good look at the life of this humble, plain-spoken man.
In 1946 King followed cousin Bukka White to Memphis, where the legendary bluesman gave him a room, but the timing wasn't right and King returned to Arkansas. Two years later he was ready, and returned to Memphis and onto the radio on WDIA, a groundbreaking move for a black man from the cotton fields. There was no looking back from that point forward. King began a lifetime of touring during the height of segregation, enduring discrimination and substandard meals, travel and rooms on what's known as the "Chitlin' circuit". By the 1950s King was a star, with songs such as "3 O'Clock Blues", "Rock Me Baby" and more riding the charts, and King continued his punishing pace on the road, performing over 350 dates a year.
B.B. King has touched everyone who loves the blues with his stinging, melodic, vibrato-filled lead lines (King doesn't play chords at all), one of those artists who can be recognized from a single note. The movie is loaded with heartfelt testimony from other greats such as Carlos Santana, Eric Clapton, Mick Taylor and Bill Wyman from the Stones, and (unfortunately) Bono, with whom King recorded "When Love Comes to Town" on U2's Rattle and Hum in 1988. Truly, the world could live without another example of Bono's "Me first" attitude, but that's really a minor criticism in the course of the film.
The Life of Riley gives our greatest blues singer and guitarist his due. The highlights from his long career, particularly his '60s and '70s work are electrifying, and one could watch him coax Lucille, his guitar, all night long. The film is highly recommended, and when it's done, follow it up with King's 1964 Live at the Regal as I did. Because you can't really experience the blues by watching the man talk. But when King slides into "Every Day I Have the Blues", you'll know. He's the greatest without question, and everyone who came after him his in his debt, and if you play blues guitar you do it in part because of him. B.B. King is an elemental force in American culture, and when he's gone, he'll never be replaced. Testify to the King!
---